Hrithik Roshan's pathetic piece of shit Kites has turned in a pitiful performance in UK too.
Folks, this crappy movie is a frigging disaster – and deservedly so – given all the investment, the wide release, the multiple premieres and hype that's gone into it.
Do not for a moment believe all the PR nonsense and puffery in newspapers about how well this movie is doing.
Here, see for yourself in the below table Kites' poor showing in the UK  vis-a-vis a few prominent Bollywood films.
Like in the U.S., the average gross for Kites is a disgrace: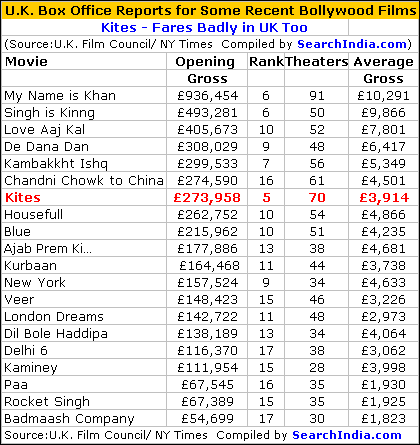 As we've said in the past, let's hope this debacle teaches Hrithik & Co to take the matter of scripts seriously.
Related Content:
Kites Box Office 3 – Shirdi Sai Baba Shows Middle Finger to Hrithik Roshan
Kites Review – OMG, Utter Garbage
Match Point Review – OMG, Can Kites Match This?
Kites Opening Show USA – Poor Response