Updated:
Hey, Abhishek, look for a rope and a sturdy rafter, will ya.
Pronto.
Abhishek, you've become unendurable.
Folks, we've said it a million times.
This Bollywood nincompoop Abhishek Bachchan is not worth the piece of paper on which a movie-ticket is printed.
Hopelessly incompetent as an actor, the Bollywood moron's only claims to fame are Amitabh Bachchan, Jaya Bachchan and Aishwarya Rai.
Without the three, the jackass is less than a zero.
Less than a cipher.
Seeing him on the screen is worse than passage through the Hades.
Infinitely worse.
Boy, Happy Hours Started Early Here
It's only around noon here.
But, hell, we're soaked.
To the brim.
Lots of Gilbey's Gin, some Seltzer Water and a few spoons of lime juice. And the Flushing Ganesh Temple mixture on the side.
And Ennio Morricone's For a Few Dollars More is playing on an endless loop on the home theater. Ah, the whistles, the whistles, slowly rising to a crescendo. And then the whistles again. If we die today, we'll have no complaints.
Shows you how happy we are. 🙂
Thrilled Euphoric that disgraceful little twit Abhishek Bachchan has gotten his comeuppance, the box-office comeuppance that is.
Never has a more worthless star befouled the screen.
Never ever. Sick Shit.
Bollywood Celebration – Choli Ke Peeche, Kya Hai?
Kya Hai? Kya Hai? 😉
It's Diwali today. Diwali, for sure.
What if our fireworks day July 4 is still two weeks away.
It's still Diwali today because the Bollywood Raavan is a f*cking disaster at the box office.
Celebrate. Celebrate.
Because that piece of shit Raavan is a f*cking disaster at the box office.
A disaster, did you hear us?
Hallelujah, Hallelujah
Raavan, Abhishek's latest affliction is a frigging disaster.
The skunk's latest piece of shit, that nightmare which opened on 119 theaters here in the U.S., has been rejected, yes, roundly rejected by desis here.
Raavan has earned a piffling piddling $480,703 at the box office in the opening weekend, according to Boxofficemojo.
And the average gross per theater works out to a shameful (define shame, Abhishek) $4,040.
Lower than Genelia D'Souza's Jaane Tu Yaa Jaane Na.
Feeling suicidal, are you, Abhishek?
Of course, that overrated South Indian chimp Mani Ratnam bears substantial responsibility for this disaster.
Guys, here are the opening weekend box office numbers for Raavan vis-a-vis some prominent recent Bollywood movies: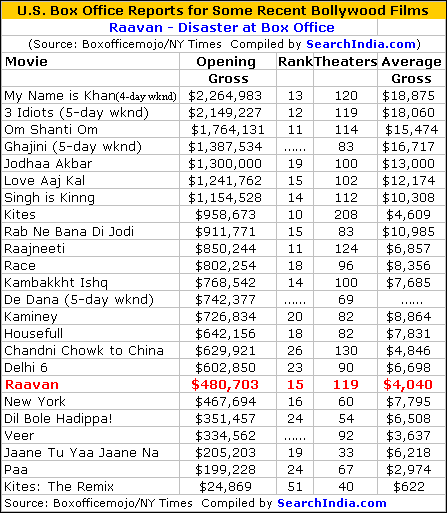 Ah, the whistles from Ennio Morricone's For a Few Dollars More again.
Again. Endlessly, playing in our mind.
Peerless. Ennio Morricone, that is.
Here, all ye schmucks, listen to the maestro.
Ah, this Gin will be the death of us. 🙁
Related Stories:
Raavan Review – Beastly Nonsense
Raavanan UK Box Office – Ayyo, Worse than Kuruvi
Raavan UK Box Office – Disaster in UK Too