We are Happy. 😆
You wanna know why?
Because chutiya Bollywood film We are Family has right royally been buggered at the box office.
The U.S. box office that is.
Shitty Performance at BO
In the September 3-5, 2010 opening weekend, We are Family could not even do $300,000 at the U.S. box office.
All that this shitty film could manage was a terribly low $296,907.
But then We are Family's poor box office performance is hardly surprising considering how bad the movie was and the negative reviews it garnered both in India and the U.S.
This trashy movie was unworthy of being released on the big screen. Maybe, at Kajol's private baby-shower party but definitely not in theaters. 😉
Folks, as the wise souls at SearchIndia.com said in their exemplary review of this piece of trash:
Not so much a movie as cow-dung flung on the screen, We Are Family suffers from intolerably hideous acting, incomprehensibly awful screenplay and insanely bad music….

Guys/Gals, if you take a soldering iron to your balls or boobs you're likely to inflict less pain on yourself compared to watching this piece of shit called We are Family.
Here see for yourself in the below table how badly We are Family has fared in the September 3-5, 2010 opening weekend: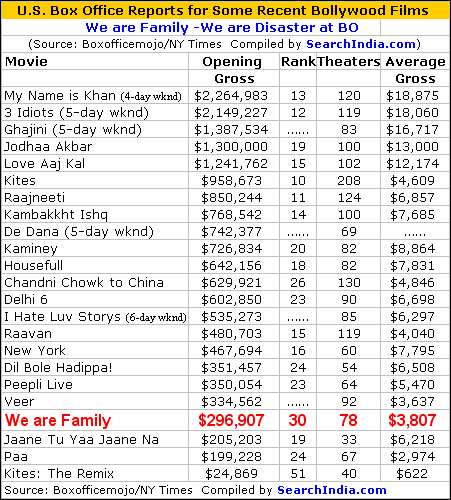 Guys, if you've not seen this We are Family junk, consider yourself blessed.
For God's sake, do not even think of watching this garbage unless you're desperate to waste your precious money and time.
Not Good in UK Too
Hey, is anyone surprised that We are Family has failed to have a great opening in the UK too.
Most unimpressive.
Here see for yourself in the below table the UK box office numbers for We are Family: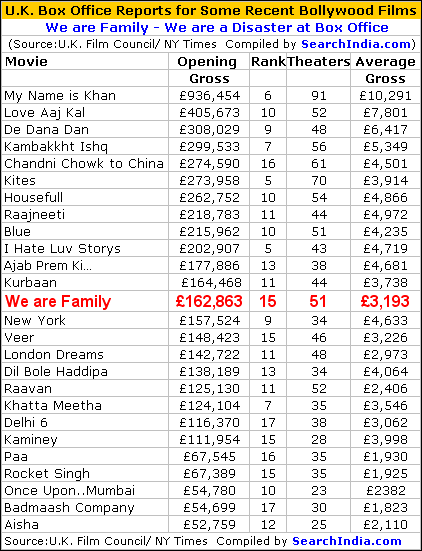 Related Stories:
We are Family Review – Disgustingly Bad
Stepmom Review – Can B'Wood Apes Match This?
We are Family is We are Garbage, Say Critics