(U Me Aur Hum Fares Badly at U.S. Box Office)
When the definitive history of Bollywood is written, Ajay Devgan will easily be counted among the biggest thieves and liars the Mumbai film industry has produced.
Why do we say this?
Because we almost fell off our seats when we saw Ajay Devgan claiming credit for a story that is not clearly his as the credits flashed on the screen before U Me Aur Hum started at Regal Cinemas in Burlington (New Jersey).
This fella, Ajay Devgan, sure has some cojones – first he brazenly steals, then he shamelessly claims what he stole is his!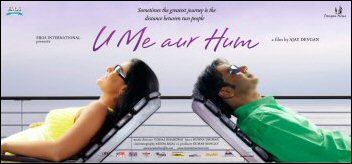 Say what you will but we don't have a shred of doubt that U Me Aur Hum is a crude lift of that fine Hollywood romance The Notebook based on the novel of the same name by Nicholas Sparks. We recently borrowed The Notebook (2004) from Netflix, watched it and loved it.
Set in the American south, The Notebook is a gorgeous romantic tale featuring Canadian actors Ryan Gosling and Rachel McAdams, and two veterans James Garner and Gena Rowlands. All of them are strong performers, particularly Ryan Gosling, James Garner and Gena Rowlands.
Notebook director Nick Cassavetes (Gena Rowlands' son in real life) does a fine job in building the relationship between Noah (Ryan Gosling) and Allie (Rachel McAdams) layer upon layer – Allie's visit with her parents to the small town of Seabrook where Noah works in the lumbermill earning 40 cents an hour, their first meeting at the local carnival, Noah's foolhardy antics on the ferris wheel, their passionate love affair, their parting, Allie's subsequent engagement to the wealthy Lon Hammond and Allie's ultimate reunion with Noah are all handled with great panache and elan.
A pale imitation of the fine Hollywood romantic tale, U Me Aur Hum never once scales the entertaining heights of The Notebook.
Like The Notebook, U Me Aur Hum is the tale of a young man Ajay Mehra (Ajay Devgan) whose beloved wife slips into Alzheimers (or senile dementia as it's referred to in the Hollywood version). While it happens after long years of happy married life in The Notebook, the wife Piya (Kajol) gets Alzheimers at just 28 in U Me Aur Hum.
Besides taking up the director's baton (his first) in U Me Aur Hum, Ajay Devgan is also the producer of this eminently forgettable movie.
There are way too many discordant notes in U Me Aur Hum – irrelevant side stories of Ajay's friends Vicky and Natasha, the constant bickering of Nikhil and Reena, sub-mediocre acting by Kajol, so-so acting by her real-life husband Ajay Devgan, lack of chemistry between Kajol-Ajay Devgan (a big zero compared to the on-screen chemistry of Ryan Gosling-Rachel McAdams in Notebook), irrelevant song intrusions and overall poor execution.
U Me Aur Hum should have also been edited better, lopping off at least 30 minutes of the movie. That would have spared us some of the agony.
DDLJ girl Kajol is considered one of the finest actresses in Bollywood. Alas, you rarely see shades of her much ballyhooed acting prowess in U Me Aur Hum.
Kajol cannot hold a candle to Rachel McAdam or to the extraordinary Gena Rowlands and lacks the depth of their acting talent.
While Kajol is tolerable as the younger waitress on the cruise liner where she first meets Ajay Devgan in the movie, she is pathetically unequal to the task of playing an Alzheimers patient. Gena Rowlands did it with great verve in The Notebook. Kajol exemplifies – and repeatedly shows – inexperience in handling that onerous responsibility.
Do you think it's too late to send Kajol to acting school?
While U Me Aur Hum is overall a sub-mediocre movie, several parts of the second half are plain boring. Like for instance, Ajay Devgan rambling on and on about an individual's self-defense mechanism.
While the music is not hopeless in U Me Aur Hum, it's nothing remarkable either. Mostly the garden variety stuff that doesn't leave much of an impression.
You'll know what a mediocre movie U Me Aur Hum is only after you watch The Notebook.
There are so many memorable moments in The Notebook – like when Allie and Noah go to the abandoned home that Noah wants to buy and restore some day, their first parting, when they go in the boat in the rain during her return to Seabrook and so on.
There are just no great, memorable  moments in U Me Aur Hum.
The Notebook is a cause for celebration while U Me Aur Hum is a cause for lamentation at the long miles that Bollywood  – and Ajay Devgan in particular – still has to cover.