Dhobi Ghat Review – Less Dhobi, More Phony
Thank You, God (Allah, Ram, Jesus or wateva be your f*cking name).
Thank you with all our heart for sinking this mediocre shit a.k.a Dhobi Ghat.
Folks, the much publicized Aamir Khan produced Dhobi Ghat failed to generate even half-million dollars at the U.S. box office.
What a F*cking Shame
!
Even that half-wit Abhishek Bachchan's Raavan did more!
In its January 21-23, 2010 opening weekend, Dhobi Ghat did $365,297 at the box office with an average gross of $4,683.
Of course, the Aamir Khan bootlickers will now emerge out of the woodwork and declare what a great hit the movie is since it had several newcomers, how the desi audience in the U.S. is too dumb to appreciate good movies blah blah blah.
Rubbish.
Schmucks, let's not forget that the movie has Aamir Khan acting in it, producing it and actively promoting it.
And yet the movie failed to touch even half-million dollars.
But with Kiran Rao's abortion of a story, how could Dhobi Ghat be anything but mediocre on the screen and at the box office.
Here's how badly Dhobhi Ghat fared at the U.S. Box Office compared to a few other prominent recent Bollywood films: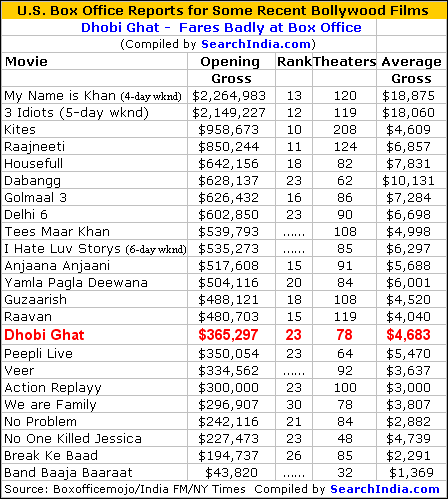 Related Reviews:
Dhobi Ghat Review – Less Dhobi, More Phony