Delhi Belly is continuing its strong run at the U.S. box office.
Desis have been flocking to see this raunchy, toilet-humor filled entertaining Bollywood movie produced by Aamir Khan and starring his nephew Imran Khan.
For the second weekend, i.e. July 8-10, Delhi Belly grossed $375,225 with an average gross of $4,169 per theater. It came in at #22.
The total gross of Delhi Belly up to July 10, 2011 in the U.S. is $1,23 million.
Here's how Delhi Belly fared in the second weekend at the U.S. box office compared to a few prominent Bollywood films: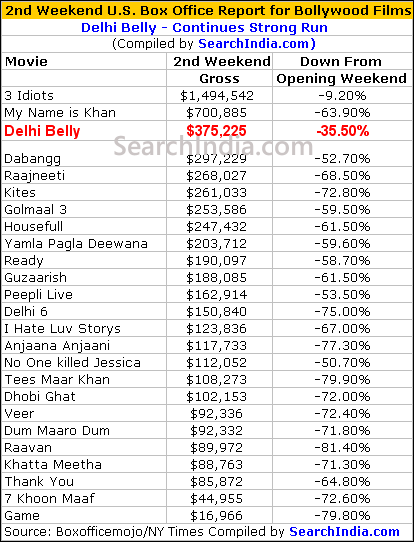 Related Stories:
Delhi Belly Review – Aamir Khan Gives Guy Ritchie a Neat BJ
Delhi Belly Box Office – Decent Collection