Ha ha ha ha, Ayyo Kaduvule.
Intha Vijayakku shani pudichidichu (Vijay is going through bad times).
Folks, Vijay's new movie Kaavalan has been badly buggered by moviegoers in the U.K.
Kaavalan has fared worse than Vijay's previous movie Sura at the U.K. box office.
Pitiful. Pitiful.
Vijay richly deserves his current miserable fate for all the crap he's showered on Tamil moviegoers for the past few years.
By the way, Kaavalan released a week late in the U.K.
For the opening January 21-23, 2010 weekend, Kaavalan managed a total gross of only £49,475 and an average gross of £2,910.
Are we surprised?
Of course not. The Kaavalan trailer and cacophonous music foretold the disaster that lay ahead.
Here's how badly Kaavalan fared at the U.K. box office compared to a few prominent Tamil films: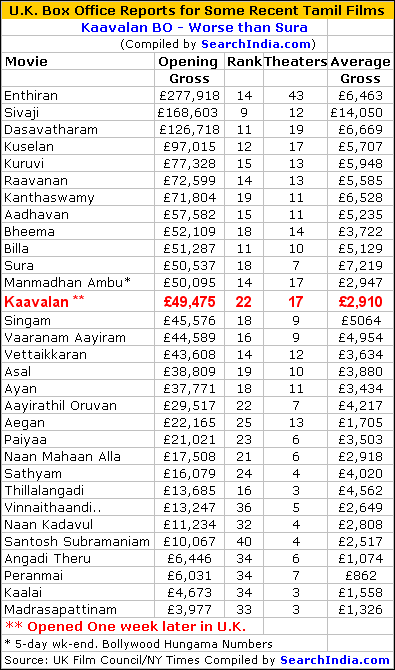 Related Stories:
Kaavalan Trailer Review – In New Landmark, this Tamil Movie Features Two Clowns
Kaavalan Music Review – If Funeral Music be Your Cup of Tea, This One Fits the Bill