Exclusive: My Tryst with 72-Virgins by Osama bin Laden
It took nearly a decade.
But finally justice was done to avenge the brutal attacks on 9/11/2001 that killed nearly 3,000 Americans (under former President George W.Bush's watch).
Osama bin Laden Dead
Folks, we're happy to report to y'all that Islamic terrorist, leader of Al Qaeda and mastermind of the 9/11 attacks Osama bin Laden is now having a jolly good time with 72 virgins in Heaven after meeting his death at the hands of U.S. soldiers in Pakistan. 😉
Just in case you didn't know, many Muslims believe that violent attacks on innocents, engaging in suicide bombings and other maniacal acts earn them a place in heaven and a rollicking time with 72 virgins.
Today Osama bin Laden won that grand 72-Virgins lottery. 😉
Osama bin Laden was 54-years-old when he embarked on his 72-Virgins Mission a few hours ago.
In an address to the nation, U.S. President Barack Obama said:
[O]n nights like this one, we can say to those families who have lost loved ones to al Qaeda's terror: Justice has been done.
But it's a mighty shame that with all our resources it took nearly 10-years to kill Osama.
Osama Killed in Pakistan Heartland
By the way, as long suspected Osama bin Laden was hiding in that terrorist haven Pakistan.
But what was surprising was that Osama was not hiding in the border area between Afghanistan and Pakistan but in the heart of Pakistan.
Osama bin Laden was cornered in the town of Abbottabad, just 32-miles north of the Pakistani capital Islamabad and a few miles from the Indian border state of Jammu & Kashmir.
We wouldn't be surprised in the least to learn in the coming days that Osama was being sheltered by Pakistan's intelligence agency ISI or the country's Army.
It is high time the U.S. stops giving any aid to the harborers of terrorists aka Pakistan.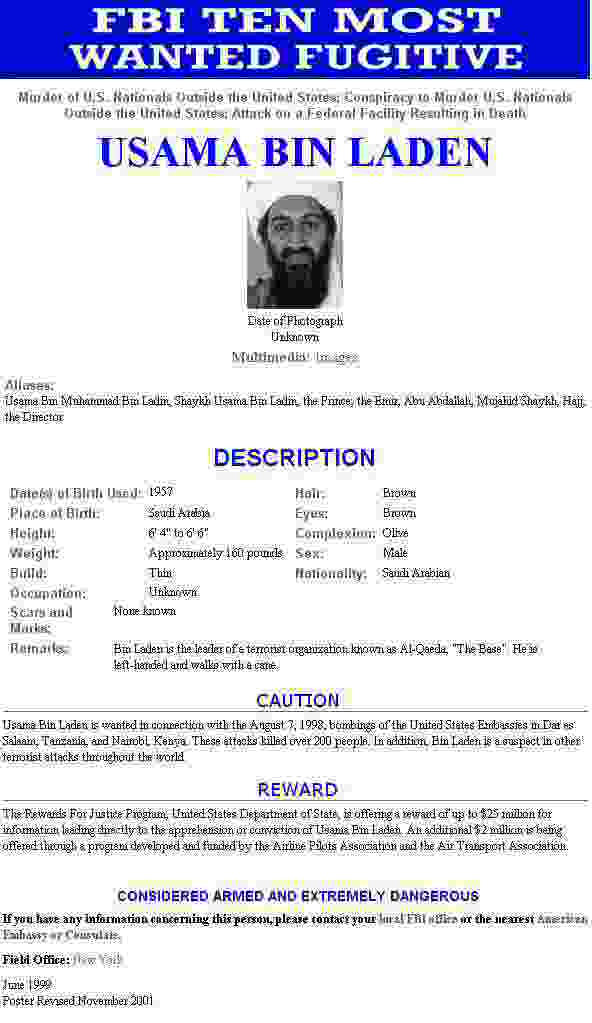 $25m Reward – Who Ratted Out Osama?
The big question now is who got the $25 million reward that the U.S. State Department had offered for Osama bin Laden's head.
It's highly likely that Osama bin Laden was ratted out by one of his accomplices in crime.
Whoever informed the Americans about Osama's hideout in Abbottabad must have received safe passage to the U.S. besides the $25 million award.