Playing the sadist to its Android, Blackberry and other smartphone rivals, Apple today launched the iPhone 4S at a hall-filled event in Cupertino, California.
The upgrade to the world's favorite smartphone comes with a faster dual-core processor, a voice-based intelligent assistant Siri and an 8-megapixel camera.
The new phone runs on the Apple A5 chip, the same processor powering the company's market-leading iPad 2 tablet.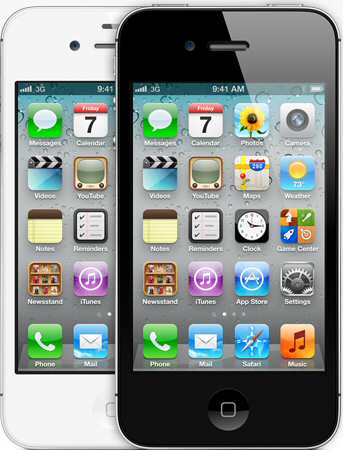 Key Features of iPhone 4S
* Supports both GSM and CDMA phone standards making life easier for international travelers
* 8-Megapixel camera with a new custom lens, a larger f/2.4 aperture and an advanced hybrid IR filter that produce sharper and brighter images.
* Can intelligently switch between two antennas to send and receive.
* Supports download speed with HSDPA of up to 14.4 Mbps
* Voice-based Siri 'Intelligent Assistant' to make phone calls, sends messages, schedules meetings, sets reminders, and more.
* Battery life of up to 8 hours of 3G talk time.
* 1080p HD resolution video recording
* 3.5-inch multi-touch screen and Retina Display
* Comes in two colors Black and White
* Three different storage options – 16GB ($199), 32GB ($299) and 64GB ($399) with 2-year contract.
* Includes iOS 5 mobile operating system with over 200 new features; and iCloud free cloud services to automatically and wirelessly store customer content in iCloud and push it to all their devices.
* Facetime video calling service to other iPhone users
iPhone 4S will ship on October 14 in the U.S., Australia, Canada, France, Germany, Japan and the UK.
No word on availability dates for India but Apple plans to make the iPhone 4S available in 70 countries with 100 carriers by the end of this year.
Besides AT&T and Verizon, Sprint will also be offering the iPhone 4S.
Not Worth Upgrading for iPhone 4 Users
While the iPhone 4S has compelling features that could cause more misery to Apple's Android and Blackberry rivals, it's not that attractive if you already have the iPhone 4.
Since SI has already has the iPhone 4, it's unlikely we'll upgrade.
In any case, iOS 5 software will be available on October 12 as a free software update via iTunes 10.5 for iPhone 4 users.
But if you're on the iPhone 3G or 3GS or heaven forbid one of those crappy non-iPhone devices, SI recommends that you drop everything you're doing, rush out to the nearest Apple store and get yourself an iPhone 4S.
With the launch of iPhone 4S, the iPhone 4 will be available for $99 and iPhone 3GS for free with a two year contract. Now, if that's not bad news for Android and Blackberry smartphones we don't know what is.
Related Posts:
History of the Most Popular Phone – Apple iPhone