By Naveen
Being one who's cognizant of the supremely low standards of Bollywood and the limited acting skills of its favorite star child Abhishek Bachchan, I should have thought thrice before walking into the cinemas after a few weeks of sabbatical to watch the perilously inane Bol Bachchan.
Bol Bachchan is the latest turd-pile from the Rohit Shetty stable.
With a penchant for expelling mindless comedies such as the Golmaal franchise and All The Best at sickening frequency, Rohit Shetty has single-handedly lowered the IQ of a nation of movie watchers who already suffer insufferable trash week after week.
However, all my sympathies toward the audience vanished the moment I entered the theater and found it impressively full.
Was it the heat wave in the mid-west? Sadomasochism?
Who can fathom how the weird Indian mind works!
Nevertheless, you can be sure this crowd will pale in comparison to the deadly clusterf#$k that's about to ensue for Ajith's Billa 2.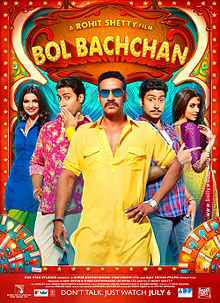 Bol Bachchan – The Genesis
I imagine this is how Bol Bachchan must have been made…
Abhishek: Rohit, all my movies are flopping, can you revive my career.
Rohit: Impossible!
Abhishek: But, you make silly films that run well at the BO.
Rohit: Aree… that is due to the chutiya audience.
Abhishek: Can you make another one and keep me in it?
Rohit: Hmmm… I'll have to rip off some old movie and dumb it down. Maybe I'll rip off Golmaal. I already stole that name ha ha ha!!
Abhishek: How do we make it run?
Rohit: Let us get Ajay Devgn. He always does movies for me and I'll get him to produce 😉 Adding his name will get us some credibility.
Abhishek: Will he accept?
Rohit: I will tell him he will get to speak lot of funny one liners in English.
Abhishek: Good Idea! What else?
Rohit: Let me see… we can set the story in a small town. That way, we get some opening in single screens. The multiplex audience are smart to your moves.
Abhishek: Haan! I hate the multiplex audience.
Rohit: We can give it a South Indian film feel and cast a South Indian actress to get some more people to watch.
Abhishek: Also add some gay jokes. It worked big time for me in Dostana.
Rohit: Sure… I'll throw in some crude jokes. Hey, we need to fill the front benches too. I'll also cast Prachi Desai and she can get some of the television audience to watch the movie. What can you do to help?
Abhishek: I will get my papa to dance and sing for one item song and lend our family name to the movie.
Rohit: Excellent! I'll write a script in an hour and call you. We can start shooting tomorrow.
Abhishek: Golmaal was a big hit back then. Are you sure you are capable of remaking it?
Rohit: Amol Palekar was a fine actor. Are you sure you are capable of playing his role?
Abhishek and Rohit: OK. Forget it. Let's make the movie.
Story
After ripping off the name Golmaal for his movies, the 'creative' geniass Rohit Shetty has gone one step further and rehashed the plot of the yesteryear hit movie Golmaal.
Bol Bachchan stars Abhishek Bachchan, Ajay Devgn (the fella changed his last name?), Asin and Prachi Desai.
The original Golmaal starred the loveable Amol Palekar and Utpal Dutt with Bindiya Goswami playing the female lead. The late Hrishikesh Mukherji directed the film.
In the rehashed version, the brother and sister duo of Abbas Ali (Abhishek Bachchan) and Sania Ali (Asin) lose their ancestral property (after the death of their parents) to their Chacha in a court case.
Shastri (Asrani), their dad's best friend promises to get Abbas a job in his hometown Ranakpur and brings them there. Once in Ranakpur, we are introduced to the powerful Prithviraj (Ajay Devgn) and his family rivalry with cousin Vikrant.
Abbas breaks open the gate of a temple that has been closed for several years to save a drowning kid and this makes Prithviraj give him an accountant's job.
Only hitch – Since Abbas is a Muslim, Shastri's son Ravi (in an obvious reference to former cricket player Ravi Shastri, which is supposed to be a joke!) introduces Abbas as Abhishek Bachchan to avoid communal tension. We are then introduced to Prithviraj's sister Radhika (Prachi Desai).
The yarn of lies builds along the same lines of mistaken identities as in the original Golmaal.
The key difference is that the original was far more graceful and pleasant than this sophomoric drivel.
Bol Bachchan – Problems Galore
While there's hardly anything good to point out in Bol Bachchan, the problems are aplenty.
Ø Heavily inspired by Telugu / Tamil movies – Village rivalry between cousins, long mindless action scenes with mid-air fights and people flying in the air, sister sentiment etc.
Ø Insipid performances from all the major actors with the exception of Asrani and Archana Puran Singh.
Ø Crude gestures, lousy jokes, and homophobic references.
Ø Unconvincing sub-plot of Ajay Devgn – Asin romance. Supposedly, Ajay's character loved a girl who died and she exactly resembles Asin!
Ø Silly jokes.
Ø Ajay Devgn's lack of suitability to comedy and Abhishek's to acting.
Ø Ajay Devgn's character's English translation of Hindi sayings, which are supposed to be funny.
Ø Completely horrendous last 20 minutes.
Ø The movie overstays its welcome by running for 2 hrs. 45 minutes.
Ø Below-par music with not even one memorable song.
My Recommendation – Skip It
Slapstick humor is a genre for movies that compromise on rational and logical thinking in favor of more laughs.
But even this genre has some limits.
Bol Bachchan surpasses all limits of sensible movie making and insults the audience taste.
Do not waste your time or money on this nonsense.
If lines such as "A brother in need is a sister indeed" or "My chest has become a blouse" make you cum then go ahead and waste your time.