***************
Raghunandan Yandamuri's preliminary court hearing has been scheduled for November 2, 2012.
Yandamuri's hearing will take place in the court room of Magisterial District Judge James P.Gallagher at 9AM on Friday.
Unless they're hiding under a rock, most Indians in America know that Montgomery County detectives arrested 26-year-old Raghunandan on October 26 in connection with the murders of two fellow Telugus, Satyavathi Venna (61) and her granddaughter Saanvi Venna (10-months) at the Marquis Apartment complex in King of Prussia, Pennsylvania.
The police criminal complaint of Detectives Andrew Rathfon of the Upper Merion Township Police and Paul Bradbury of the Montgomery County Detective Bureau dated October 26, 2012 states that Yandamuri confessed to the killings of the Vennas during questioning.
But guilt or innocence in America is ultimately determined in a court of law.
Bail has been denied to Raghunandan, not surprising considering the enormity of the crimes and flight risk.
A software engineer from India on a H1-B visa, Raghunandan Yandamuri hails from Vizag, a coastal city in the South Indian state of Andhra Pradesh.
Should you have plenty of time on your hands and a keen desire to see Raghunandan Yandamuri, you can attend his preliminary court hearing at:
128 West Fourth Street, Bridgeport, PA 19405
We suspect the Indian community will be present in strength at the Montgomery County court house on Friday.
Most likely, Raghunandan's pregnant wife Komali Alokam and some members from the Venna family will attend the preliminary hearing.
If Venkata Konda Venna and Chenchu Latha Punnuru attend the hearing, this will be the first occasion they will be confronting the alleged killer Raghunandan Yandamuri, after the murder of their daughter Saanvi Venna and Venna's mother Satyavathi.
Raghunandan Yandamuri was a family friend of the Vennas.
Don't be surprised if there is some drama at the preliminary hearing.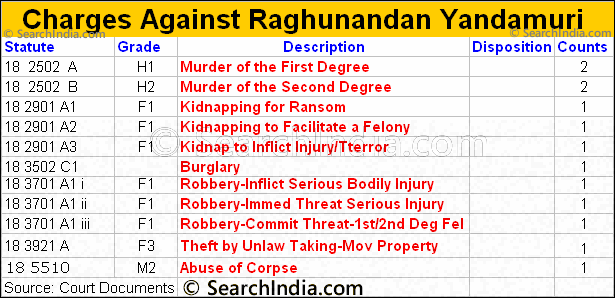 What Happens in a Preliminary Hearing?
According to our research, the preliminary hearing provides the accused/defendant his first opportunity to defend himself.
The preliminary hearing is also the time when attorneys for both sides appear in the court room, examine witnesses, a judge looks at the case and the evidence and decides whether there is probable cause for the case to go forward.
The prosecution must provide sufficient evidence to the court that a crime was committed and link the defendant to the crime.
When Raghunandan Yandamuri arrives at his preliminary hearing on November 2, he will have three options:
1. Plead guilty
2. Challenge the Prosecutor on probable cause
3. Waive the case into trial
It'll be interesting to see which option Yandamuri chooses because he's already confessed to the crimes during questioning by the police last week.
If Raghunandan Yandamuri pleads guilty, it'll save tax payers a lot of money.
I doubt he'll pick the second option. But life is full of surprises.
Should Raghunandan decide to go to trial, it'll take several months before a verdict is reached.
This is because both sides – the Defense and Prosecution – must be provided sufficient time to prepare for the case, a jury has to be selected, the trial has to proceed and a verdict reached.
Public Defender – Yandamuri's Fate Sealed
After Montgomery County authorities advised Yandamuri of his right to apply for assignment of counsel, he requested a public defender suggesting the young man lacks the money to hire his own lawyer.
That's not in the least bit surprising considering Yandamuri's alleged killings were prompted by serious financial problems.
The quality of service defendants obtain from public defenders in America is poor compared to what defendants get when they hire their own attorneys.
You get what you pay for is a principle that generally holds good even inside a court room.
Many states in the U.S. have budgeted very limited money to the public defender's office, which is burdened with a punishing case load and low pay.
The Montgomery County court system has already provided an application to Yandamuri following his request for a Public Defender.
It's likely a Public Defender has already been appointed for Raghunandan Yandamuri and met him in prison for initial discussions.
Court filings suggest Assistant District Attorneys Kevin R.Steele and Samantha Louise Root Cauffman from the Montgomery County District Attorney's office will be prosecuting the case against Raghunandan Yandamuri.
Barring a miracle, Raghunandan Yandamuri will either be awarded the death penalty or life in prison without parole.
Pennsylvania is one of the American states that has a death penalty but it's been many years since it's executed someone.
Wanna Write to Raghunandan Yandamuri?
Raghunandan is currently languishing in the Montgomery County Prison, which is a county jail in Pennsylvania.
The Montgomery County Correctional Facility is located in Lower Providence Township.
Given the wide publicity to Raghunandan Yandamuri's alleged crimes and the revulsion they have aroused within the NRI Telugu community, many of you might harbor a keen desire to write to him.
If you wish to write to Raghunandan Yandamuri, the mailing address is:
Raghunandan Yandamuri

Inmate
Montgomery County Prison
60 Eagleville Road
Eagleville, PA, 19403
In the event you are writing to Yandamuri, please avoid Telugu, Hindi or any of the other Indian languages and stick to English only.
It's doubtful the Montgomery County prison authorities know any of the Indian languages.
Yandamuri's current home, the Montgomery County prison, houses both male and female sentenced offenders and individuals awaiting trial.
Related Content:
Raghunandan Yandamuri Preliminary Court hearing Postponed
Citing Workload, Public Lawyers Reject New Cases
Essential Facts About Raghunandan Yandamuri
If He Had Any Brains At All, Raghunandan Yandamuri Would Have Killed Himself
Telugu Gambler Raghunandan Yandamuri's Crime Gamble Failed Big Time