**************************
**************************
If Telugu bidda Lakshminivasa Rao Nerusu is indeed the killer of his wife and young children, then he certainly chose the right American state (Michigan) to commit the three heinous murders.
Even if Lakshminivasa Rao Nerusu is extradited from the great Indian state of Andhra Pradesh (the famed land of the mouth-watering Dum Biryani, the heroic Allu Arjun and the divine NTR), brought to the U.S. to stand trial and found guilty, Lakshminivasa Rao Nerusu will still escape the lethal injection.
That's because death penalty has been unconstitutional in Michigan since 1963.
So even if Lakshminivasa Rao Nerusu is convicted of the murders, he will be housed for the rest of his life in a state prison, fed three meals a day and his medical expenses taken care, all at a cost of $36,000 per year to American tax payers. And that's not including the cost of a Public Defender if Nerusu does not have the money to hire a lawyer to defend him.
Now isn't that a bigger win than holding the winning Powerball or Megamillion jackpot ticket!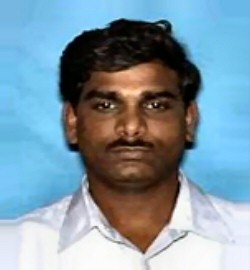 Lakshminivasa Rao Nerusu
(All Photos: Novi Police Dept.)
Ides of October
Four years back, Lakshminivasa Rao Nerusu allegedly committed the triple murders of his 37-year-old wife Jayalakshmi Nerusu, 14-year old daughter Tejasvi Nerusu and 12-year old son Siva Kumar Nerusu on October 13, 2008 at their Wexford Townhome on Novi Road and W 13th Rd in Novi, Michigan.
Soon after the alleged murders, Lakshminivasa Rao Nerusu fled to Hyderabad in South India via Frankfurt.
Jayalakshmi Nerusu, her daughter Tejasvi Nerusu and son Siva Kumar Nerusu were cremated at the Charles Step Funeral Home in Redford, Michigan on November 2, 2008.
Like March for Julius Caesar, October seems to be a deadly month for the victims of some Telugu biddas. Raghunandan Yandamuri's horrific killings of the Vennas in 2012 were also carried out in October.
Lakshminivasa Rao Nerusu Arrested
The Novi Police Department found the three dead bodies with head and neck injuries on October 27, 2008 while responding to a "welfare check" requested by a relative of the Nerusus.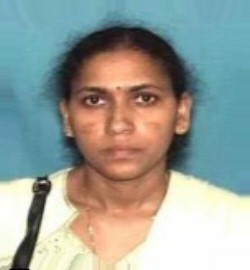 Wife Jayalakshmi Nerusu
The Oakland County Prosecutor's Office issued an arrest warrant for Lakshminivasa Rao Nerusu husband/father of the victims on November 3, 2008 in the triple murders.
But Lakshminivasa Rao Nerusu was not an easy guy to nab and the Telugu bidda managed to elude the police for over four years.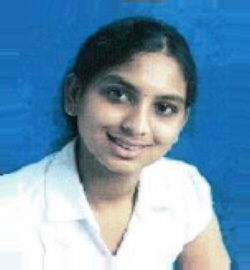 Tejasvi Nerusu
(Daughter)
Finally, the Telugu bidda's luck ran out.
Following the joint efforts of Novi Police Department, FBI, U.S. Department of State, Interpol and Andhra Pradesh state Police, Lakshminivasa Rao Nerusu was arrested around February 20, 2013 near Hyderabad.
Unanswered Questions
How Lakshminivasa Rao managed to evade the police for four long years remains a mystery.
How did he support himself these last four years?
Where was he hiding?
What weapons were used to commit the murders? Was it a knife, a blunt instrument or both?
But the biggest mystery remains the cause and circumstances of the three murders.
Now that Lakshminivasa Rao Nerusu has been arrested, his interrogation by the police could throw light on the background of the gruesome crimes.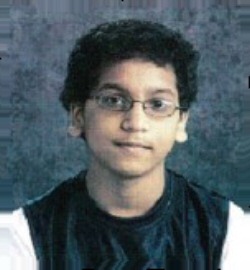 Siva Kumar Nerusu
(Son)
Lakshminivasa Rao Nerusu – Key Facts
* A Telugu bidda hailing from Akunuru village near Vuyyuru in Krishna district of Andhra Pradesh
* Youngest (and most disgraced) son of Koteswara Rao, a retired school teacher
* 5′-6″ tall and weighs 165-pounds
* A Commerce and Computer Science graduate
* After suffering a severe bite of the Amreeka bug, Lakshminivasa Rao Nerusu migrated to the U.S. in the 1990s
* Married his cousin Jayalakshmi Nerusu
* 42-years-old at the time of the triple murders
* Like a lot of Telugu immigrants in the U.S., Lakshminivasa Rao worked as a Software Programmer (in Novi, Michigan)
* Before moving to Novi, Michigan, Lakshminivasa Rao Nerusu lived in Texas and Illinois
* Prior to the triple murders, Lakshminivasa Rao Nerusu had been laid off from his IT job
* Lakshminivasa Rao Nerusu was a Green Card holder (a badge of honor for Telugu biddas in America) at the time of the alleged murders
What Next for Nerusu
Now Lakshminivasa Rao Nerusu has to be brought back to Novi, Michigan to face the consequences of alleged triple homicide.
According to the Novi Police Department, the U.S. Department of Justice and Department of State officials are managing the extradition process of the alleged murderer.
But extradition to the U.S. could take several years if Lakshminivasa Rao Nerusu contests the process.
Lakshminivasa Rao Nerusu's Telugu compatriot in the U.S. Raghunandan Yandamuri, who is also facing murder charges, must be so desperately wishing he too had committed his atrocities in Michigan instead of Pennsylvania.  Prosecutors in Montgomery County, PA, are seeking the death penalty for Yandamuri for the Venna murders.
Murder Charges
Lakshminivasa Rao Nerusu will be charged with Murder in the First Degree including premeditation and deliberation when he returns to Michigan at the end of the extradition process.
According to Novi's Chief of Police David E. Molloy, if convicted, Lakshminivasa Rao Nerusu faces life in prison without any possibility of parole.