U.S. Judge Nanci J. Grant of the Oakland County Circuit Court in Michigan fixed the trial start date for the mother of U.S. Telugu butchers Lakshminivasa Rao Nerusu, 47, for May 5, 2014 following his arraignment in court today.
Nerusu's trial is scheduled to start at 8:30AM on May 5 at the Oakland County Circuit Court.
Triple Murders
Telugu bidda Nerusu is charged with killing his wife and two young children in their Novi (Michigan) apartment on October 13, 2008.
After the murder of his family members, Nerusu fled to Andhra Pradesh, the homeland of Telugus.
After a massive four-year manhunt led by the FBI, Nerusu was captured near Hyderabad in May 2013 and dragged back to the United States to stand trial.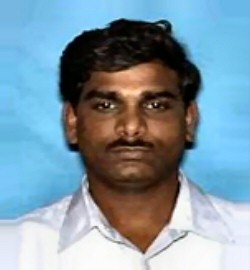 Lakshminivasa Rao Nerusu
Nerusu faces three counts of Homicide – First Degree Murder Pre-meditated.
Nerusu's trial is sure to keep the Telugu diaspora in America transfixed.
Since Michigan has no death penalty, Nerusu will spend the rest of his life in prison if he is found guilty.
Considering the heinous nature of Nerusu's alleged crime and his previous track record of running away to India, there is no chance of Nerusu's release on bail or parole.
It is customary for accused to be presumed innocent unless and until proven guilty but Nerusu's past actions are extremely disquieting.
Another Telugu bidda, Raghunandan Yandamuri is on trial in Pennsylvania for the murders of baby Saanvi Venna and grandmother Satyavathi Venna. Yandamuri's trial is also set for 2014.