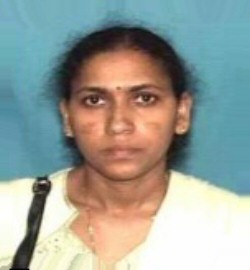 Dedicated to Jayalakshmi Nerusu
Telugu bidda he was,
Nerusu his name,
Michigan his home
software his calling.
Failure his destiny,
Cruel turned bidda's heart.
Ruthless his hand,
the knife held steady.
Telugu bidda struck,
down flew the knife.
Not once, not twice,
not seven times.
Oh, Balaji of Seven Hills
What vile games do you play!
The knife plunged 59 times,
Yabhai Tommidi Saarlu.
Again and again,
the knife rose and fell.
Blade striking soft skin,
59 times it drew blood.
Into frail Jayalakshmi,
On pale front and back,
chest, neck and abdomen,
knife drew strange red shapes.
Life ebbing, Jaya looked up beseeching,
into Telugu monster's eyes.
Pitiless, plotting, savage bidda roared,
his knife plunging deep into her neck.
With Lord Balaji did Jaya merge
Little did loving, dying mother know of
same knife awaiting young Tejasvi and Siva.
And soon did they too unite with Balaji.
Two weeks they lay quiet, undiscovered,
Jaya, Tejasvi and Siva in 10/2008,
united in Blood, Death and Love,
victims of a Telugu Shani's sharp knife.