**************************
**************************
Telugu murderers in the U.S. are hoping an insanity plea will be their passport to freedom.
First it was Sujatha Guduru in Florida who went with the insanity plea and it seems to be working with the Telugu woman who battled psychological issues even before her crime.
Now Telugu bidda Lakshminivasa Rao Nerusu is trying to ride the same "I was mad during my crimes" train in Novi, Michigan.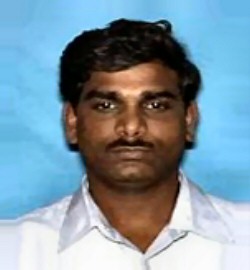 Lakshminivasa Rao Nerusu
Nerusu – Three Murders
Nerusu shot to fame after butchering his wife and two children at the family's Novi (Michigan) town home on October 13, 2008 and then fleeing to his Telugu homeland – Andhra Pradesh in South India. Their bodies were found two weeks later with head and neck wounds.
It took over four years for the American cops to locate the 47-year-old whacko in Hyderabad and haul his brown ass back to the U.S.
An unemployed computer programmer, Nerusu first butchered his wife Jayalakshmi Nerusu but sustained injuries in the process. Nerusu then went to a nearby drug store and after getting bandages for his wounds returned home to wait for his two children Tejasvi Nerusu (14) and Siva Kumar Nerusu (12) to get back from school. After killing the children, Nerusu fled to India the next day.
After a four-year manhunt, Nerusu was nabbed by the American law enforcement with help from the local Andhra Pradesh police in February 2013.
Novi police brought Nerusu back to the U.S. in May 2013 to stand trial for the three murders.
Nerusu Trial
Nerusu's trial on three counts of First degree Murder started today in the court room of Chief Judge Nanci Grant of the Oakland County Circuit Court in Michigan.
Jury selection for Nerusu's trial is slated for Tuesday.
The trial is expected to last about a week.
While Nerusu's lawyers are deploying the insanity argument, the prosecution has made it clear it intends to rigorously fight the insanity plea.
Adding to Nerusu's woes, two forensic psychiatric exams of Nerusu found the Telugu bidda mentally competent.
Nerusu's trial was earlier set for May 2014 but was postponed to June to give his lawyer more time to prepare.
Since his capture and extradition from India, Nerusu has been an involuntary guest of the Oakland County Jail in Michigan, held without bond.
No, Dum Biryani is not on the menu of the Oakland County Jail.
If found guilty, Nerusu will spend the rest of his life in a Michigan prison at considerable cost to U.S. taxpayers (Michigan does not have the death penalty).