Bars and pubs in Novi (Michigan) will likely be full Saturday, May 25 as policemen and FBI agents celebrate the capture and extradition of deadly Telugu bidda and international fugitive Lakshminivasa Rao Nerusu to face murder charges.
Notorious Telugu bidda Lakshminivasa Rao Nerusu is forcibly being hauled back to the U.S. from his homeland India where he'd fled after allegedly killing his wife and two young kids in Novi on October 13, 2008.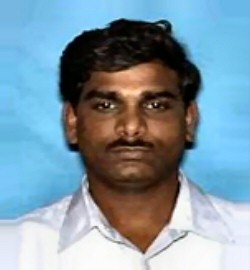 Lakshminivasa Rao Nerusu
After committing the alleged murders, Lakshminivasa Rao Nerusu fled to Hyderabad, capital of the glorious South Indian state of Andhra Pradesh.
Andhra Pradesh is famous for the delicious Dum Biryani, mass export of software programmers to the U.S., producing obscenely horrid films relished greatly by the local Telugu people and an obsession of its natives to migrate to Amreeka.
The combined efforts of FBI, U.S. Department of State, Interpol, Novi Police Department and the Andhra Pradesh  Police helped in arresting Lakshminivasa Rao Nerusu around February 20, 2013 near Hyderabad.
It's not clear what Lakshminivasa Rao Nerusu has been doing for the last four plus years in Andhra Pradesh but it's safe to assume he's been gorging on oily Dum Biryani, fiery Avvakaya pickle and spicy Gutti Vankayya. Plus, of course watching tons of trashy Tollywood films (which owe their legendary fame and popularity to the fact that there are no heroes, heroines or villains but feature only comedians staring at the audience and yelling Champaestanu at three-minute intervals)!
Project Welcome Home
No one can accuse Americans of not having a sense of humor.
Nerusu is being brought back to the U.S. under a special FBI program called "Project Welcome Home" to arrest and extradite international fugitives charged with crimes of violence who have fled the U.S.
The F.B.I.'s Criminal Investigative Division developed "Project Welcome Home" in 2004.
FBI agents say over 400 fugitives have been returned to the US from more than 42 countries to face prosecution under "Project Welcome Home."
FBI Agent in India
An Officer from the Novi Police Department and a FBI Special Agent have traveled to India to bring back Nerusu on Saturday, May 25.
Soon after his return to U.S. soil, Nerusu will be arraigned on three counts of First Degree Murder issued by the Oakland County Prosecutors Office.
Nerusu's extradition process was expedited after the Telugu bidda waived legal proceedings in India on April 22, 2013.
Nerusu is accused of killing his 37-year-old wife, Jayalakshmi Nerusu, and their two children, 14-year old daughter Tejasvi Nerusu and 12-year old son Siva Kumar Nerusu, at their Wexford Townhome on Novi Road and W 13th Rd in Novi, Michigan.on October 13, 2008.
$2 Million Dollar Bidda
The unfortunate aspect of "Project Welcome Home" is the high cost involved in searching, capturing, extraditing deadly fugitives, arranging for their trial, legal fees for public defenders and decades-long imprisonment (if the defendant is found guilty).
Assuming the Telugu bidda Lakshminivasa Rao Nerusu (now 46 or 47-years old) is found guilty, sentenced to life in prison without parole and lives for another 30-years, the cost to American tax payers will be in excess of $2 million.
And that's not including astronomical healthcare costs for bypass surgery, kidney transplants, diabetes etc (alas, average lifespan in America has increased these days).
Another Telugu bidda, Raghunandan Yandamuri is currently on trial in Pennsylvania for double murder.
Suggestion – Maybe it's time to include a special provision in the new immigration 'amnesty' bill (under consideration by the U.S. Senate) for a Crime Fee on Indian H1B/Green Card applicants  to cover the high cost to American tax payers of such horrible crimes.
Lakshminivasa Rao Nerusu – Essential Facts
* A Telugu bidda hailing from Akunuru village near Vuyyuru in Krishna district of Andhra Pradesh
* Youngest (and most disgraced) son of Koteswara Rao, a retired school teacher
* 5′-6″ tall and weighs 165-pounds
* A Commerce and Computer Science graduate
* After suffering a severe bite of the Amreeka bug, Lakshminivasa Rao Nerusu migrated to the U.S. in the 1990s
* Married his cousin Jayalakshmi Nerusu
* 42-years-old at the time of the triple murders
* Like a lot of Telugu immigrants in the U.S., Lakshminivasa Rao worked as a Software Programmer (in Novi, Michigan)
* Before moving to Novi, Michigan, Lakshminivasa Rao Nerusu lived in Texas and Illinois
* Prior to the triple murders, Lakshminivasa Rao Nerusu had been laid off from his IT job
* Lakshminivasa Rao Nerusu was a Green Card holder (a badge of honor for Telugu biddas in America) at the time of the alleged murders
Good Time for Nerusu
A good time awaits Telugu bidda Nerusu in the U.S. compared to what he'd have endured in any Indian prison where life is worse than hellish.
Although U.S. prisons have often been condemned as being bad, they're certainly less than hellish.
But one thing Lakshminivasa Rao Nerusu will not get as part of his prison diet is Dum Biryani. Allu Arjun films will also not be part of Nerusu's prison entertainment. 😉
No Death Penalty for Telugu Bidda
Since Michigan has no death penalty, Nerusu will, if found guilty, spend the rest of his life in prison.
Considering the heinous nature of the crimes, any chance of release on parole is a pipe-dream.
Lakshminivasa Rao Nerusu – Related Content
Winner! Telugu Bidda Lakshminivasa Rao Nerusu Wins Death Penalty Lottery in U.S.
Warrant Issued for Arrest of Lakshminivasa Rao Nerusu in Triple Murder
Telugu Fugitive Lakshminivasa Rao Nerusu Arrested in 2008 Triple Homicide
Mother and Two Juveniles Deceased in Triple Homicide