What could be the reason for me to kill my loving family? I had to be insane.
– Michigan Telugu bidda Lakshminivasa Rao Nerusu at his trial
Thanks in small part to characters like Telugu bidda Lakshminivasa Rao Nerusu, Michigan state prison employees have much to be pleased.
In these uncertain economic times where all jobs are at stake, Telugu biddas like Nerusu are bringing a smile to prison employees.
Because given the way 46-year-old Nerusu's trial has been going, the Telugu bidda will most certainly be convicted of first degree murder and get life in prison with no possibility of parole.
Assuming Nerusu will live to around 76 years, that means a prison term of at least 30 years and guaranteed jobs for penetentiary staff!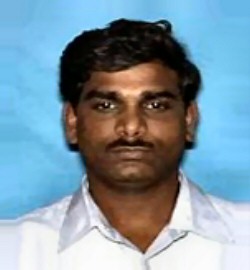 Telugu Butcher Nerusu
Triple Murders
Nerusu is on trial for first degree premeditated murder for killing his wife and two young children in 2008. After killing them, Nerusu fled to Telugu homeland Andhra Pradesh where he was caught last year and hauled back to the U.S.
Nerusu is pleading insanity for the murders, a legal tactic that's unlikely to work since two psychiatrists have testified that he is mentally competent.
Nerusu is said to have stabbed his wife Jayalakshmi 59 times.
Nerusu told the court yesterday that he does not remember the murders.
I don't have any memory of that incident.
Nerusu's memory lapses seem to be selective.
Because he remembered slapping his wife a few times and that she had called the police on one occasion.
He also told the court that his wife was unhappy over his drinking, smoking and frequent unemployment.
I have problems for a long time with my wife. She was always blaming me. It was irritating me.
On the night before the murders, Nerusu researched human anatomy and dismemberment on his PC.
Nerusu claims he has no recollection of doing such research.
When asked about the research, Nerusu told the prosecution yesterday:
I'm losing my mind. I have no control of my actions.
If found guilty, Nerusu will spend the rest of his life in prison.