Sujatha Guduru is the Telugu news item of the day in America.
From Seattle in the north-west to Miami in the south-east and from San Diego in the south-west to Boston in the north-east, Sujatha Guduru is the hot topic of discussion among Telugu biddas in America.
If you're not a Telugu bidda and wondering Who the Heck is Sujatha Guduru, here's your answer:
1. Sujatha Guduru is the latest Telugu murderer in America.
2. Telugu is a species indigenous to the South Indian state of Andhra Pradesh. But like the Florida pythons that came from Burma and are now running loose all over Florida, Telugus are roaming all over America muttering incomprehensible words like PHP, C++, Dum Biryani, Python (the computer language, not the snake), Green Card Stamping Ayinda, Perl, SAP, Toyota Camry, Java, Hyderabad Very Cheapest Discount Air Ticket, Oracle, J2EE, Biryani Franchise Restaurant Starting, AJAX and Champaestanu in no particular order.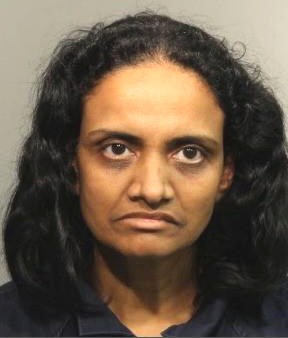 Sujatha Guduru
(PG 13 – Photo Not suitable for Kids)
3. Thanks to Sujatha Guduru, Telugus have now accomplished the rare hat-trick of heinous murders in the U.S. Sujatha's homicidal Telugu predecessors include Raghunandan Yandamuri and Lakshminivasa Rao Nerusu.
4. Sujatha Guduru is in the news for killing her 17-year-old daughter Chetana Guduru, a bright student like most South Indian kids in the U.S.
5. Sujatha Guduru has been charged with Homicide – First Degree Murder, Premeditated, contrary to Florida Statute 782.04 (1)(a)(1).
6. Sujatha Guduru's crime is considered a Capital Felony in Florida, which means the Telugu woman is eligible for the death penalty.
7. If found guilty, Sujatha Guduru will likely be the first Telugu woman to be executed in America or sentenced to life in prison without parole. If you wish to educate yourself beyond J2EE, Oracle and LAMP, Wikipedia has a profile on Capital Punishment in Florida.
8. Sujatha Guduru was considerate enough to send her brother advance notice via e-mail of her murderous plans but tragically the foul deed was done by the time he arrived.
9. Like other notorious Telugu criminals in the U.S., Sujatha has close connections to the Indian software business, a cottage industry in Andhra Pradesh. Unconfirmed rumors suggest that the Spanish explorer Columbus is now a popular God (second only to Balaji of the Seven Hills) in Andhra Pradesh for his discovery of America and paving the way for the tsunami wave of Telugu software programmers to strike America.
10. According to police documents, Sujatha Guduru has confessed to killing her daughter Chetana Guduru on the morning of January 27, 2014. Confessing to crimes seems to be popular with Telugu criminals in the U.S. Raghunandan Yandamuri too confessed to his killings and that too on video!
11. Sujatha is 44-year-old, born on August 13, 1969. The year 1969 is an important year for Telugus since the Telengana agitation began in a big way that year. A bizarre epidemic restricted to Andhra Pradesh, Telengana's symptoms include a furious, uncontrollable impulse to throw stones, burn buses and destroy public property.
12. Sujatha Guduru is a divorcee, a rather unusual situation for a Telugu woman of her age.
13. Sujatha Guduru is a Hindu, a strange religion that encourages worship of snakes (King Cobra is a favorite), genuflecting before welding machines, screw-drivers and hammers (Ayudha Pooja), giving thanks to monkeys (Monkey God Hanuman is a Hindu favorite), praying to books (only text books not Playboy or Penthouse), bribing of Gods through frequent donations and kneeling before Cars (every Hindu Temple in America offers Car Pooja  for a fee of few hundred dollars).
14. Sujatha Guduru was a careful plotter (unlike the screenwriters of those hideous Telugu films) and neatly choreographed the murder of her daughter.
15. Sujatha Guduru is believed to have killed her daughter Chetana by shooting her twice, fearing that no one would take care of the girl after her (i.e. Sujatha's) suicide.
16. Sujatha purchased a .38 caliber gun on January 21, 2014, again an unusual action for a Telugu woman. Guns and Indians are like Beef and Hindus. They don't mix well.
17. Sujatha Guduru picked up the gun from the store on January 25, 2014.
18. Sujatha Guduru shot her daughter Chetana Guduru in the head and face on January 27, 2014 some time between 6AM and 7AM.
19. Sujatha Guduru exhibited poor marksmanship when it came to shooting herself. She survived the shot to her chest without serious injuries and has already been released from hospital.
20. Don't ask why Sujatha Guduru wanted to commit suicide. The motive is still hush-hush but we'll know soon enough.
21. Until she moved into John E.Polk Correctional Facility (Seminole County jail) as a dishonorable Florida state guest, Sujatha Guduru lived in her ranch house at 560 Farmingham Ct, Oviedo, FL 32765 with her daughter and mother.
22. Sujatha Guduru used a Hotmail account to send an e-mail to her brother Prasad Chittaluru informing him of her Murder-Suicide intention. Why the Hotmail aspect should be relevant and recorded by the police in their arrest warrant confounds me.
23. Sujatha Guduru's daughter Chetana Guduru was considered to be a shy, helpful and brilliant young girl by her classmates.
24. Sujatha Guduru worked as an administrator for her brother's software company EPIC Engineering & Consulting Group, LLC.
25. Sujatha Guduru is the latest Telugu in America to be charged with Homicide. If history offers us any guidance, she won't be the last Telugu to turn a whacko.
26. Sujatha Guduru was arrested by the Seminole County Sheriff`s Office on January 30, 2014 at 10:22 AM.
27. The impact of Sujatha Guduru's court hearing on Friday, January 31 on the fate of two new Telugu films, Pandavulu Pandavulu Tummeda and Heart Attack, that release the same day remains unclear.
28. Sujatha Guduru's first court hearing, scheduled for tomorrow, clashes with her homicidal Telugu murderer Raghunandan Yandamuri's hearing in a Pennsylvania court on change of trial venue. How Telugu biddas will resolve the Clash of Telugu Titans remains a mystery. It's safe to bet that not much code or error-laden software code will be written tomorrow across America as Telugu biddas hover around computers and discussion forums and fervently debate the merits and demerits of what they don't understand.