The lawyer for Florida Telugu murderer Sujatha Guduru, who shot her 17-year-old daughter on Monday, January 27, said today his client had been suffering from mental health problems for the last two decades.
Sujatha Guduru may plead insanity as her defense. She has been charged with first degree murder, premeditated.
In Florida, the charge is a capital felony, meaning that Sujatha is eligible for the death penalty or life in prison without parole if she's found guilty.
The 44-year-old woman, a native of the South Indian state of Andhra Pradesh, has already confessed to the police that she shot her daughter Chetana Guduru.
Murder-Suicide
In a botched murder-suicide attempt, Sujatha shot her daughter with a .38 caliber gun at their Oviedo home and then tried to kill herself with the same weapon.
Sujatha survived a shot to her chest but her daughter Chetana succumbed to her injuries at the Orlando Regional Medical Center hospital on Monday.
After a brief hearing at the Sanford courthouse before Seminole County Judge Fred Schott, Sujatha's attorney Brian Bieber  said his client may plead insanity.
Bieber later told journalists that Sujatha had been hospitalized in the past for her mental health problems and prescribed psychotropic drugs.
Bieber told newspersons after the court hearing:
Unfortunately Ms. Guduru has been tortured by her mental health issues for much of the last 20 years….Her thought processes were beyond skewed. She was clearly in a psychotic state, having a psychotic break.
Bieber said his client needs a mental health evaluation.
Sujatha was present in court today in a wheel chair and responded softly in the affirmative when Judge Schott asked if she understood that she had been charged with first-degree murder.
Sujatha's attorney Brian Bieber agreed to the prosecutors' demand that she be held without bond (meaning no bail for her).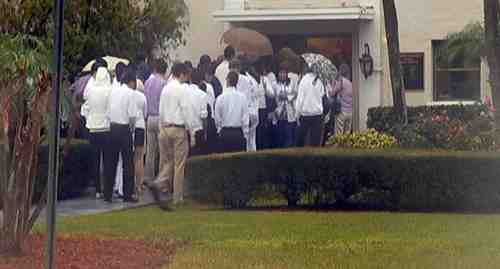 Friends and Family Members Attend Chetana's Funeral
(Photo Courtesy: Orlando Sentinel)
Meanwhile, Chetana Guduru's funeral was performed at a Orlando funeral home as per Hindu rites.
Chetana's schoolmates and her family members attended the funeral.