When I noticed Trader Joe's touting its Chicken Tikka Samosas as a "Top 10 Favorite Appetizer" for today's Superbowl in East Rutherford, NJ, my interest was easily piqued.
After all, no desi ever says "No" to Samosas, the most popular Indian snack and street food.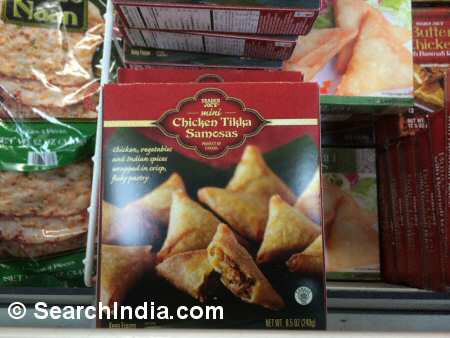 Trader Joe's Mini Chicken Tikka Samosa

With much anticipation, I made the 75-mile round-trip to Trader Joe's, a popular food chain the U.S.
Besides the Chicken Tikka Samosa ($3.99), I also loaded up my cart on Vegetable Samosas ($3.69), Vegetable Rice Biryani with Dumplings ($2.49), Garlic Naan ($2.29), Chicken Tikka Masala ($3.49) and a few boxes of Trader Joe's ever reliable Organic Red Pepper & Tomato Soup ($2.79).
Here's SI's verdict on Trader Joe's Chicken Tikka Samosa and a bunch of other Indian food:
Chicken Tikka Samosas
These are mini Samosas, not the usual, buxom Indian Samosas.
Packed in an attractive box, there were 12 mini Samosas wrapped together in a sealed bag.
As with other frozen food, the Chicken Tikka Samosa package includes heating instructions and list of ingredients.
At the outset, I will readily concede the Chicken Tikka Samosas have a nice 'meaty' aroma.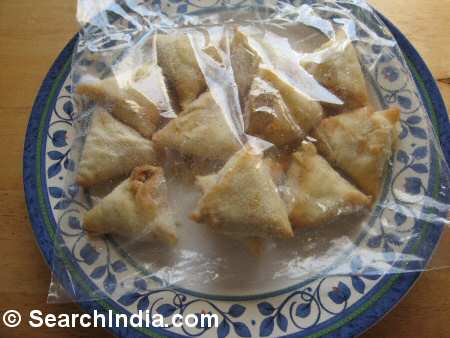 Chicken Tikka Samosas – 12 Pieces
In terms of taste, I'd say Trader Joe's Mini Chicken Tikka Samosa were neither a complete delight nor a total disappointment.
The outer texture was soft and the inside Chicken Tikka stuffing was way too mildly spiced, making them unsuitable for Indians.
In my lexicon, any Indian food (except desserts) that fails to pack heat is a let-down.
The absence of heat (i.e. spicy flavor) was my biggest grouse with Trader Joe's Chicken Tikka Samosas. There should have been some spicy marination for the chicken stuffing inside the Samosas.
Another miss – absence of a dipping sauce. Samosa is usually served with spicy Mint or Green Chutney.
By the way, I did not heat the Samosas in the oven but thawed them a bit and then microwaved them.
Vegetable Samosas
Trader Joe's Vegetable Samosas were a bigger disappointment compared to the Chicken Tikka Samosa.
The $3.69 Vegetable Samosa box included six medium size Samosas. Unlike the Chicken Tikka Samosas, the veggie Samosas were not wrapped in plastic bags.
The Vegetable Samosas were bigger than the Chicken Tikka Samosa but smaller than the 75-cent, full-bodied Samosas you find at most Indian grocery stores in the U.S.
Stuffing in the Vegetable Samosa included Potato pieces, Green Peas, Cilantro, Carrot and Onion pieces.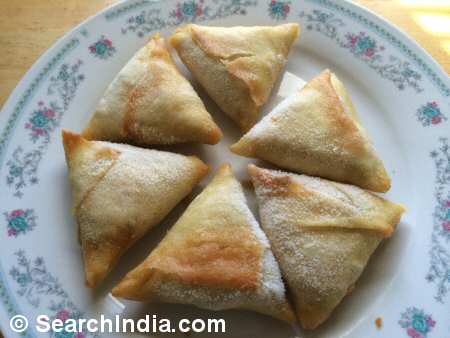 Vegetable Samosa – $3.69
What ruined the Vegetable Samosas was that the stuffing was not in the least bit tasty, spicy or flavorful.
Whichever chef in whichever continent drew up the recipe for Trader Joe's Vegetable Samosas should be hung, drawn and quartered as a dire warning to others not to mess with Indian food.
Potato pieces inside were a bit hard and could have done with a little more cooking.
Also, the packaging was bad since the Samosas were thrown into the box without any plastic bag.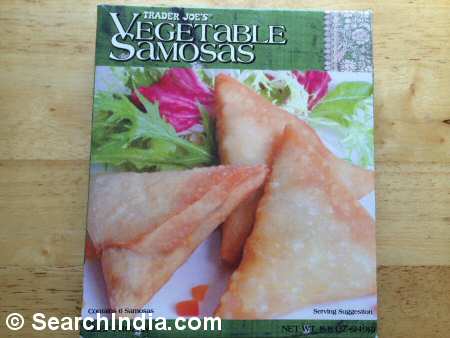 Vegetable Samosa Box
Vegetable Biryani with Dumplings
Some times in life when it rains, it pours.
That is precisely what happened with Trader Joe's Vegetable Rice Biryani with Dumplings ($2.49).
Vegetable Biryani box included six small dumplings, plus rice, Lima Beans, Green Peas, Red Peppers, Onion, Raisins and Cashew Nuts.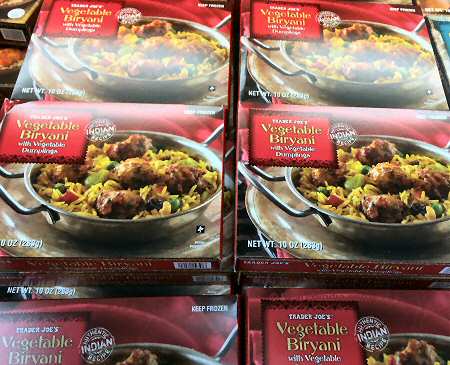 Vegetable Biryani with Dumplings Box
It was prepared with Basmati Rice and there were no issues with the texture of rice.
The only positive thing I can say about the Vegetable Biryani with Dumplings was that the aroma was a lot better than the taste.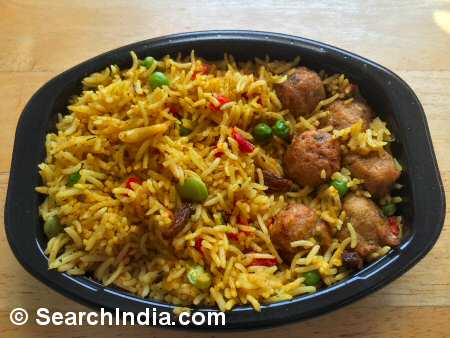 Vegetable Biryani with Dumplings – $2.49
But the Vegetable Rice Biryani lacked the traditional enticing, seductive Indian Biryani flavor.
Worse, it was not one bit spicy.
The six dumplings (made from shredded Carrot, mashed Potatos, Cilantro etc) were hopelessly devoid of any taste. I felt as if I were eating finely cooked fried, rubbery vegetable balls.
Overall, Trader Joe's Vegetable Biryani with Dumplings was severe punishment for my Indian palate.
Vegetable Masala Burger
I desperately sought relief from the spice-less assault on my Indian tastebuds.
But Trader Joe's Vegetable Masala Burger only heightened my misery.
Vegetable Masala Burger Box
The Vegetable Masala Burger box ($2.49) included four vegetable patties, wrapped two in a plastic pouch with, of course, heating instructions, ingredients and nutrition value.
Do not be deceived by the picture of Green Chutney on the box!
Chutney does not come with these Masala burgers.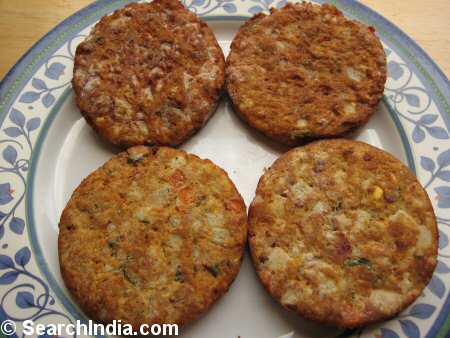 4 Vegetable Masala Burgers – $2.49
With no masala flavor and spice, Vegetable Masala Burgers were awful.
Pathetic.
And I did not hesitate to rain foul curses on the morons who came up with the recipe.
Vegetable Masala Burger on a Bun
Sure, as the box touts, the Masala Burger included small pieces of Potato, Carrot, Corn, and Green Beans.
But the patty was low on salt, spice and, above all, pitifully low on good flavor.
Masala, my ass.
Vegetable Masala Burger with Vegetables and Hot Sauce
To enhance the taste of this spiceless travesty, I added Cucumber, Onion, Tomato slices and Louisiana Crystal Extra Hot Sauce.
Bottom Line – Chicken Tikka Samosa
Except for the Chicken Tikka Samosa, the other Indian food items I picked up during my recent outing to Trader Joe's were big dampeners.
Even the Chicken Tikka Samosa earned no more than a C grade from my spice-hardened Indian palate.
If you are an Indian looking for a spicy affair with your food, you're bound to be badly disappointed.