The gluttons at SI have had Lattes at so many places – the neighborhood Wawa Food Market, McDonald's, Starbucks, Dunkin Donuts and several smaller non-chain stores.
But never an invigorating delicious Latte like the one we prepared at home by mixing a scoop of Trader Joe's Spicy Chai Latte powder into a cup of boiling water.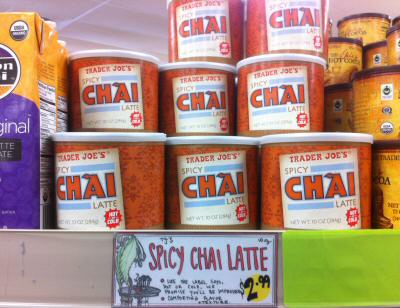 When we spotted Spicy Chai Latte powder on Trader Joe's shelves a couple of weeks back, we were initially hesitant.
You see, our past experience of Masala Chai from American grocery stores had mostly been dissatisfying.
Spicy Chai Latte – Packaging
Spicy Chai Latte powder is packed neatly with an aluminum foil cover and a tight plastic lid.
The box comes with a small plastic scoop and, of course, the Spicy Chai Latte powder.
Mixing Instructions
Mixing instructions are clear – one scoop or three teaspoons in 6 oz hot water.
Eager as we were to know if we'd gotten value for our money, we immediately boiled some water, poured it into a cup, threw one scoop of the Spicy Chai Latte powder into it and stirred vigorously with a spoon.
As we were stirring the powder, a divine aroma of Chai with Clove, Cardamom, Cinnamon, Ginger flavors wafted above.
The aroma was so fine and compelling that we couldn't resist pausing to have sip of the latte.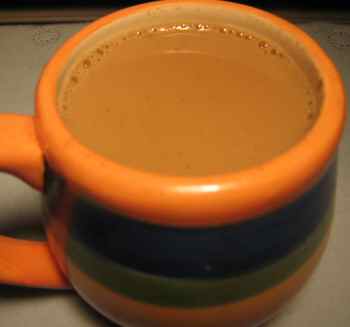 Guys, to describe Trader Joe's Spicy Chai Latte as invigorating would be a gross understatement.
It's sheer heaven.
Ingredients
Trader Joe's Spicy Chai Latte lists several ingredients including Black Tea Darjeeling, Cinnamon, Clove, Cardamom, Ginger, Anise, nonfat milk, nondairy creamer etc.
The best thing about Trader Joe's Spicy Chai Latte is the proportion of Black Tea Dajeeling and various spices. None of the spices – Cinnamon, Cardamom, Ginger, Anise, Clove – were overpowering.
All added in right proportion to give a perfect flavor and taste.
Another thing that found favor with us was the honey flavor we got while sipping it.  Sure, one of the ingredients specified on the box is honey granules.
Trader Joe's Spicy Chai Latte – SI Rating
Folks, Trader Joe's Spicy Chai Latte was so good that we had four cups in the first 24 hrs. But with each cup we adjusted the recipe to suit our taste buds and added another two OZs of water over the printed instructions on the box.
Overall we got about 10 cups of Chai Latte which worked out to about 30 cents per cup. Not a bad deal.
We regretted buying only one box of this delicious latte drink. Can't wait to return to Trader Joe's to pick up more boxes of this fine drink.
Update: We've fallen so much in love with Trader Joe's Spicy Chai Latte that we've returned there twice to pick up an additional five boxes in all. We're currently running through the third container.
SearchIndia.com strongly recommends Trader Joe's Spicy Chai Latte.
Related Stories:
Trader Joe's Authentic Masala Dosa – Yeeks!