When our Brown selves want to swim in a sea of White we haul our sorry Brown ass to the specialty grocery store Trader Joe's.
Other than our face in Trader Joe's toilet mirrors (there are two), we haven't seen a colored mug in there during multiple visits.
Apple of Grocery Stores
With 365 stores in the U.S., Trader Joe's is kinda like the Apple of specialty grocery stores, attracting fierce devotion from fans.
When a new Trader Joe's store comes up in an area, the fans are delirious for weeks and can't restrain their aahs and oohs!
No kidding, folks.
When we heard that Trader Joe's peddles Masala Dosa, Paneer Tikka Masala, Baingan Bharta, Garlic Naan, Malabari Naan and other heat-and-eat Indian Curry packets, we drove 40-miles to the nearest store to check them out and to, of course, ogle at all the White aunties.
The store has so many frozen food items that we missed the Indian stuff during our walk-around. So we enlisted the assistance of an employee who seemed eager to help and led us to the Indian food section.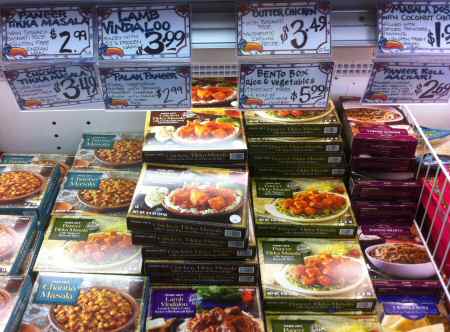 Indian Food Section at Trader Joe's
We picked different instant heat-and-eat Indian food packets including the Authentic Indian Masala Dosa from Trader Joe's. One item that we badly wanted to try but couldn't find was the Paneer Roll Achari ($2.69).
Although there were some Indian meat items too in Trader Joe's freezer (Lamb Vindaloo, Butter Chicken and Chicken Tikka Masala), we gave them the pass and focused our attention exclusively on the vegetarian fare.
Call us paranoid if you want but we are wary of eating packaged Indian meat items from freezers. God knows when they are prepared!
Trader Joe's Masala Dosa – Nice Packaging
Hailing as we do from Lungi-Land aka South India, our eyes darted to the Masala Dosas. Yeah, those rice and black gram dal crepes that induce an euphoric orgasm in the Lungi-Land dwellers.
Trader Joe's Masala Dosa comes in an attractive blue color box with pictures of the Dosa and chutney.
Trader Joe's  Authentic Masala Dosa – Noooo, Not Authentic Dosa
Trader Joe's Masala Dosa Details:
* Total No of Dosas in Packet: 4
* Masala Dosa Price: $1.99
* Coconut Chutney: Yes
* No Gluten ingredients used
* Vegan
Following the instructions on the box, we removed the Masala Dosas and heated it in the microwave for 30 seconds initially.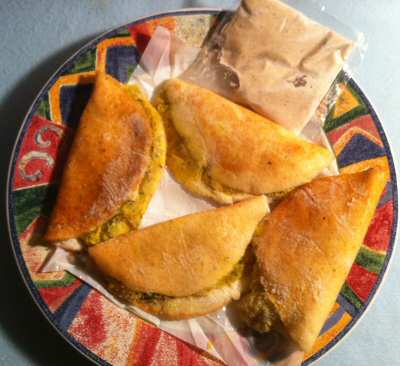 Frozen Masala Dosa with Coconut Chutney
After the initial thawing procedure, we heated the Dosa on a griddle (after dabbing a little bit of oil) for about six-minutes.
Trader Joe's suggests heating the Chutney in the microwave. We, however, did not follow their suggestion.
Instead, we dropped the Coconut Chutney packet in hot water as our Dosas were being heated on the griddle.
By the time we finished heating all the Dosas, the Coconut Chutney was also ready.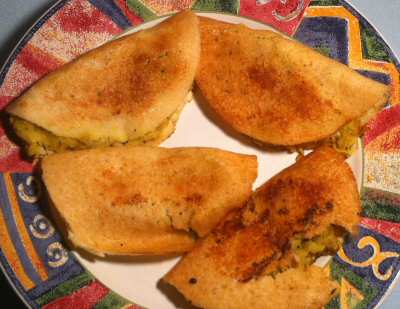 Trader Joe's Masala Dosa – After Heating
Disappointing would be too mild a word to describe Trader Joe's Authentic Indian Masala Dosa.
Here is SI's take on Trader Joe's Masala Dosa:
* The Masala Dosas were small and did not have the taste or texture of an authentic Indian Masala Dosa.

* Masala Dosa was too thick to be called a Dosa. It had the texture and thickness of Uttapam and not a Dosa

* Trader Joe's Masala Dosa was slightly thicker on the edges unlike an authentic Dosa.

* The Potato filling inside the Dosa was not in the least spicy. It was hopelessly bland and we did get not even a single piece of green chilli or any spices.

* The texture of the Trader Joe's Masala Dosa was coarse as if it were prepared with Idli flour rather than Dosa flour.

* The accompanying Coconut Chutney was a bland creamish color monstrosity. We did not find any evidence of green chilli used in its preparation.

* Serving size of the Coconut Chutney is too small for four Masala Dosas.
Trader Joe's Masala Dosa – A $1.99 Ripoff
Trader Joe's Masala Dosa is a ripoff that robs Brownies aka Indians of the pleasure of eating this South Indian delicacy.
And it dupes Americans into believing that its Dosa is Authentic Indian Dosa. As authentic as our claim of Julia Roberts being our girl-friend. 😉
By the way, Trader Joe's Masala Dosa box says "Product of India."
We wonder which Indian charlatan is responsible for this Masala Dosa travesty.
Related Stories: