Singh is Kinng Box Office – Not So Great
Never in the annals of human depravity has so much agony been inflicted on so many (500 million Bollywood fans) by so few (Akshay Kumar, Katrina Kaif, Anees Bazmee et al).
Like Attila the Hun, the mad doctor of Auschwitz Josef Mengele and Ivan the Terrible, Akshay Kumar and his fellow bozos in Singh is Kinng have unleashed a horror show that has few parallels except with the awfully sordid.
By no stretch of imagination, can Akshay Kumar's Singh is Kinng be even considered a movie.
Au contraire, it's a nightmare of horrific proportions.
A perilous journey into the arctic gulag that's fraught with relentless assaults on the eyeballs and eardrums every second.
Here's a brief preview of the kind of total garbage you can expect from this piece of trash Singh is Kinng:
1. What happens when a paralytic guy is pushed down the staircase? He gets cured and stands up.
2. Scatalogical crap like one fellow (Akshay Kumar) pissing on another man's face (Akshay Kumar just loves this kind of crap because even in his previous film Heyy Babyy – an ugly copy of Three Men and a Baby – we literally had shit flying about).
3. Infantile humor like a man (Akshay Kumar again) running his crotch into a table fan.
4. The Australian police give the two yokels Akshay Kumar and Om Puri a ride on their boat to a dreaded gangster's mansion.
Such is the unendurable garbage that Akshay Kumar and his cronies unleash in a short span of 2 hours and 10 minutes in Singh is Kinng.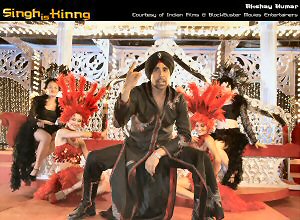 Singh is Kinng's story-line is as sophomoric as it can possibly get, even by Bollywood's lowly standards.
Happy Singh (Akshay Kumar) is the village idiot whose good intentions invariably turn into disasters in execution.
Vexed with Happy's antics, the villagers with the active connivance of Happy's chum Rangeela (Om Puri)  plot to send Happy Singh to Australia to bring back Lucky Singh a.k.a Kinng (Sonu Sood), a notorious gangster who has besmirched the reputation of the village and all Punjabis through his bad ways.
Much to his chagrin, Rangeela is forced to accompany Happy on his trip. Through a mishap at the airport, Happy and Rangeela land in Egypt instead of Australia. In Egypt, Happy keeps bumping into Sonia (Katrina Kaif) and is instantly smitten with her.
What a waste. Egypt is such a beautiful place but alas the beauty of the pyramids or the Sphinx never shows up on the screen.
But then total lack of visual appeal is just one of several shortcomings of this piece of crap Singh is Kinng.
You think things change after Happy and Rangeela make their way down under. Nope, the crap show continues, nay it gets infinitely worse.
Lucky Singh (Sonu Sood), the gangster is badly injured in a shootout and ends up paralyzed.
Guess what happens? Bizarre meets stupidity – our Happy Singh is now anointed Kinng of the criminal gang in Australia.
Pray, tell us what prompted Akshay Kumar to stoop so low as to involve himself with this garbage a.k.a. Singh is Kinng and bugger the bejesus out of his fans?
In one frightfully ridiculous scene, Happy Singh chases a helicopter in a small boat and, guess what, ends up ramming it into the flying helicopter.
Singh is Kinng is a movie in which there are just no limits to nonsense.
If this bozo Akshay Kumar is the next superstar of Bollywood, the one to wrest the mantle from Shahrukh Khan, then it must herald the advent of a long, dark night in Bollywood, a lengthy solar eclipse.
It's a bloody shame that Bollywood fans have to endure the likes of Katrina Kaif. A hopelessly incompetent actress, this thing is a disgrace to entertainment. All we get from Katrina in Singh is Kingg are glimpses of her neatly-shaven underarms.
Neha Dhupia is her usual self in Singh is Kinng – looking and acting ugly. As the Bollywood obsessed gangster's secretary, she adds to the irritating quotient of the movie. Mercifully, Neha Dhupia is fading out of Bollywood movies (she's already reduced to playing supporting roles).
Cast in the role of Katrina's beau Puneet, Ranvir Shorey has mastered the unique talent of irritating the audience without seeming to put much effort into it.
And the architect of this tragedy – no, Singh is Kinng is not a comedy despite all the rumors on the Internet – is the remorseless writer/director Anees Bazmee, the mastermind of  another recent trashy film Welcome.
To describe the periodic, senseless assaults of song and foot tromping on our ear-drums and eye-balls as music and dance would be an utter travesty. There is no grace in the dancing or charm in the music.
No, please don't describe Singh is Kinng as a movie with loose-ends because this entire garbage is one trashy loose-end that should never have seen the light of the day.
Even if money is burning a hole in your pocket and you are too dumb to spend your time fruitfully, heed our advice – Avoid this crap show Singh is Kinng like the plague.
Singh is Kinng shows Bollywood at its worst.
P.S: At Regal Burlington in New Jersey, the crap show Singh is Kinng was showing in Hall #5 and Heath Ledger's swan song Dark Knight in Hall #6. What a world of difference between this buffoon Akshay Kumar and that actor extraordinaire Heath Ledger.