(For SI Blog Reader and ardent Kamal Haasan fan prasath.j)
There was a time, really, when Ulaga Nayagan Kamal Haasan attracted crowds for his movies.
Even in America, Tamil movie fans lined up to watch Kamal's movies.
We still remember going to Clearview Cinemas (now Anil Ambani's Movie City) on Oak Tree Road, Edison (NJ) to watch Vettaiyaadu Villaiyaadu in August 2006.
Those days, Ulaga Nayagan's stock was high and much to our dismay we couldn't get tickets for the Friday show (Aug 25, 2006).
So we returned on August 26, Saturday. We came early and found ourselves a slot at the head of the queue.
But in a few minutes, the crowds started to gather and soon the line extended almost as far back as Mughal Indian restaurant at the other end (see photo below).
That must have been the pinnacle of Kamal Haasan's popularity.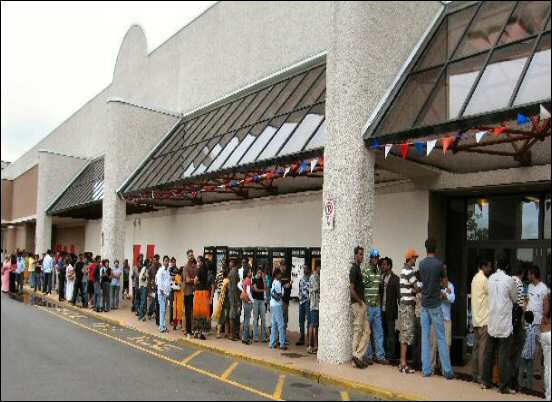 Kamal Haasan – Crowds, Before Ulaga Nayagan Became Ulaga Madayan
(Movie City, Oak Tree Road, Edison, NJ, August 26, 2006)
Well, all that was before Ulaga Nayagan turned into Ulaga Madayan with his trashy, eminently forgettable performances in Vettaiyadu Villaiyadu, Unnaipol Oruvan, Dasavatharam and Manmadhan Ambu.
Today, we ask ourselves the question – Does anyone give a damn for Kamal Haasan anymore?
Other than kosu (mosquitoes), does Kamal Haasan attract anyone to his movies?
RIP, Kamal Haasan.
Nobody, nobody cares for you any more.
And you richly deserve your miserable fate for all the garbage you've shoveled our way over the last four years.
Hell, if Kamal Haasan kicked the bucket today would anyone even notice.
Related SearchIndia.com Posts:
Vettaiyaadu Villaiyaadu Review – Disappointing
Dasavatharam Review – Breathtakingly Boring
Unnaipol Oruvan Review – Unnaipol Oru Madayan
Manmadhan Ambu Review – Ulaga Madayan Stumbles Badly