Say what you will, but U.S. desis have better taste and, of course, class compared to their compatriots in India when it comes to Bollywood films.
Media reports suggest that Salman Khan's latest crap-show Ready is going gangbusters in India.
However, Ready has not found the same level of acceptance from U.S. based desis.
In its second weekend (June 10-12, 2011) at the U.S. box office, Ready notched up a total gross of $190,097 (down 58.7%) and an average gross of $1,960.
Ready has done a total gross of $781,855 in the U.S. as of June 12, 2011.
Here's how Ready fared at the U.S. box office in the second weekend (June 10-12, 2011) compared to a few prominent Bollywood films: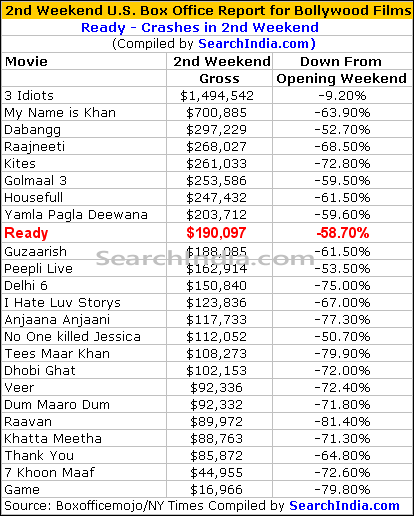 Related Stories:
Ready Review – Pageant of Trash
Ready U.S. Box Office Report – Horrrrrible