When your restaurant is Spice Zone (Rt-27, Edison, NJ), baby, the least you can do is spice it up.
You know, give us a burning, tingling, sexy sensation. 😉
Spiceless Charade
Alas, alas, Spice Zone turned out to be a spice-less travesty that dashed all our hopes on the hard rock of a mediocre kitchen.
When you charge over $25 for our Indian food, we want full-service and good spicy food.
Not crappy spiceless food in plastic trays/plates and self-service. Comprende?
Chilli Chicken was not in the least spicy and to add gross insult to serious injury the sauce/gravy had a burnt flavor. 🙁
Vegetarian Manchurian was not only spiceless but the texture of the ball was thoroughly messed up. Way too soft and mushy!
Tasted Yuck! 🙂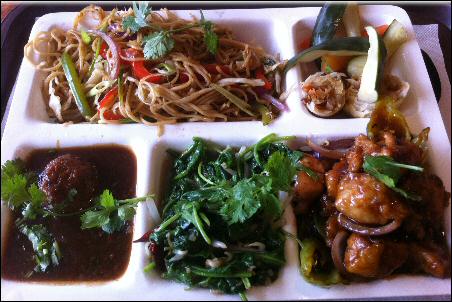 Deceptive Looks – Lousy Vegetarian Manchurian (bottom left),
Spiceless Chilli Chicken in Burnt Sauce (bottom right)
Samosa Chaat was another Himalayan disappointment.
Food, in our not so humble opinion, must be prepared by cooks not by the fellas at the cash counter.
We knew our goose was cooked when we saw the bespectacled Indian midget at the cash counter adding all the sauces and powders to the Samosa Chaat.
Plus, the Samosa was hard, the potato filling tasteless and the Mint Chutney dressing bitter and cold.
The Noodles was alright. Hard to screw that up, right?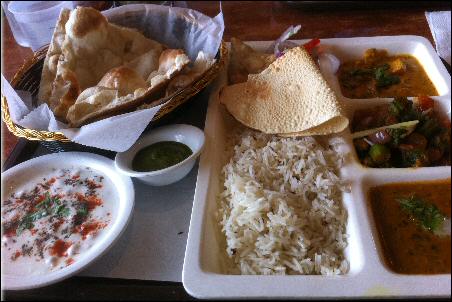 Currying (Dis)favor – Navaratan Kurma (top right),  Naan (top left)
Bhindi Masala (middle right), Dal (bottom right)
Bhindi Masala looked better than it tasted.
Navaratan Kurma was way too low on spice and flavor. Naan bread was OK but didn't get us dripping down there.
Boondi Raita was a flavorless abomination that we wouldn't serve even to Shahid Afridi. 🙁
Overall, the food at Spice(less) Zone looked good but lacked any of the magical flavor associated with fine Indian cuisine.
What Service?
Hey schmuck, the next time, you'd better serve people in the order they come in and place their orders. Why the f*ck did you serve the Paani Puri to those johnnies come lately before we got our Samosa Chaat!
When you can get a nice Indian buffet at nearby Coriander for $8.99 (week-day), why pay $8.50 for a crappy platter at Spice(less) Zone.
Folks, if you love good Indian food, if you value your hard-earned $$, then steer clear of these jokers at Spice(less) Zone on Rt-27 in Edison, NJ.
No way are we returning! Bloody Hell, we ain't even placing our head (while sleeping) in the direction of Spice Zone! 🙁
Raise your middle finger to these Spice Zone bozos.