U.S. desis have just proved their immense love for gobbling up stinking trash.
Bollywood criminal Salman Khan's latest crap-show Bodyguard, which released in the U.S. last Wednesday, has grossed $1.36 million from August 31-September 5.
That's not an impressive figure compared to My Name is Khan (Shahrukh Khan) or 3 Idiots (Aamir Khan) but for a horrendous piece of garbage like Bodyguard a gross collection of $1.36 million is a sin.
Shameful Reflection
The box office collections for Bodyguard are a shameful reflection on the obscene and poor taste of Indians in the U.S.
Any other audience but Indians, viewers would have spat on the screen and stormed out of the movie hall in disgust at the trashy spectacle on the screen.
Folks, to put it mildly Bodyguard is a crude piece of shit unfit to be released on movie screens.
Of course, Bodyguard was helped by its Eid release and the fact that the movie's hero is a Muslim. Our hypothesis is that besides Indians, the movie must have attracted hordes of Pakistanis and Bangladeshis.
As the wise souls of SearchIndia.com have often said, you can take the Indian out of India but not the India out of Indians.
Here's how Bodyguard fared at the U.S. box office compared to some prominent Bollywood films: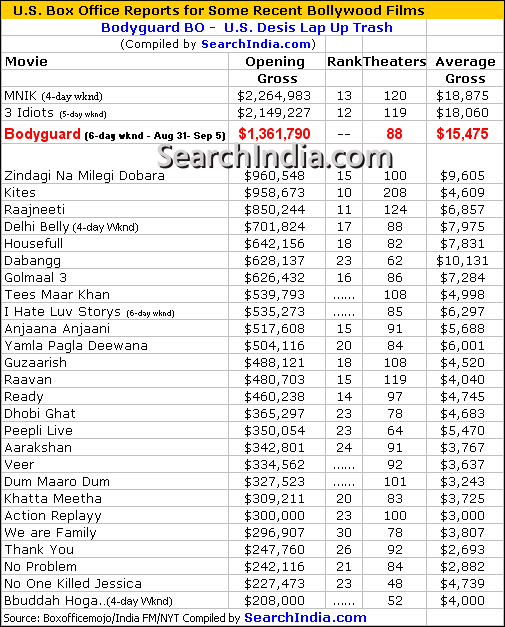 Related Stories:
Bodyguard Review – Mind-numbing Trash