In what must come as a surprise only to the babbling Android fan-boys, a new study from market researcher Gartner forecasts that Apple iPads will continue to lord over the tablet market into 2015.
The number-crunchers at Gartner see Apple commanding a market-share of over 50% until 2014.
For the current year, the iPad is projected to account for 73.4% of worldwide media tablet sales, down from 83% in 2010.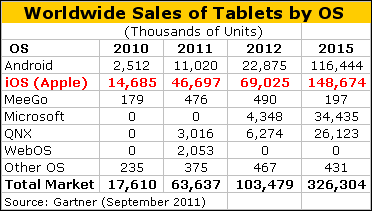 According to Gartner VP Carolina Milanesi:
We expect Apple to maintain a market share lead throughout our forecast period by commanding more than 50 percent of the market until 2014. This is because Apple delivers a superior and unified user experience across its hardware, software and services. Unless competitors can respond with a similar approach, challenges to Apple's position will be minimal. Apple had the foresight to create this market and in doing that planned for it as far as component supplies such as memory and screen. This allowed Apple to bring the iPad out at a very competitive price and no compromise in experience among the different models that offer storage and connectivity options.
Worldwide media tablet sales to end users in 2011 are projected to hit 63.6 million units, a 261.4% increase from 2010 sales of 17.6 million units.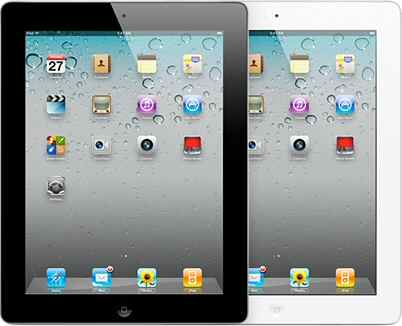 Apple iPad – Far Ahead of the Pack
Gartner predicts tablet sales will continue to experience strong growth and reach 326.3 million units in 2015.
Apart from Apple iOS and Google's Android operating system, Gartner does not expect any other platforms to win over 5% share of the tablet market in 2011.
Lower Forecast for Android
Android tablets are projected to ship 11 million units in 2011, accounting for 17.3% of media tablet sales compared to 14.3% last year.
Gartner has lowered its forecast for Android OS tablets by 28% from last quarter's projection. The researcher said the reduction would have been higher were it not for the success of lower-end tablets in Asia, and the expectations around the launch of Amazon's tablet.
Android's appeal in the tablet market has been constrained by high prices, weak user interface and limited tablet applications.
On Microsoft's prospects, Gartner expects the software giant's platform will find its biggest opportunities in the enterprise segment, where IT departments could benefit from smoother integration with existing Microsoft software.