Even the most successful of businesses sometimes make asses of themselves with incomprehensibly stupid decisions.
Yesterday, it was the turn of India's top newspaper group Times of India to display its jackass colors.
Not content with putting out iPad apps for its two flagship newspapers, Times of India and Economic Times, Times Internet Limited, the online arm of the publishing house, has partnered with an Indian startup Genwi to launch a weekly general interest magazine for the iPad called Tweek.
Tweek, like the two iPad newspapers of the Times group, is free. At least for now.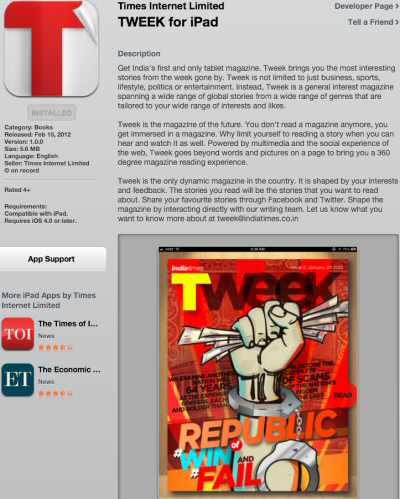 Screenshot of Tweek on iPad App Store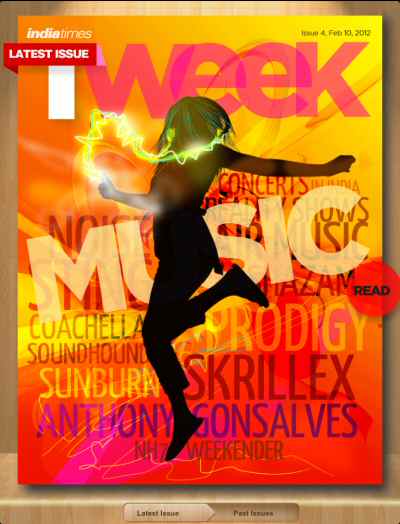 Tweek – February 10, 2012 Issue
Old Content on New Medium
Apparently, the idea is not to create fresh content for the Tweek but to rehash existing material from the Times of India, Economic Times and other group publications and slap it on the iPad.
Say, what value does a rehashed magazine bring to iPad users who have infinite news choice via countless apps.
Zilch. Nada. Zip.
Also, why Times Internet put out a new magazine instead of strengthening their two existing newspapers on the iPad and trying to convert them into a subscription fees model beats us.
Even if it's a modest subscription fee at first.
Putting out more free news publications when your existing papers on the iPad are not bringing in enough money is a cockamamie decision we can't fathom.
Also, there's a glut of newspapers and magazines on the iPad now.
A short while ago, we discovered 5,836 publications for the iPad, most of them free.
And when we typed 'India' into the App Store's search box and filtered by News category, we got 63 results for the iPad alone and 118 for the iPhone.
It seems Times Internet's gameplan is to get display ads for the tablet. Yeah, you and a gazillion others.
Given its high price, the iPad has not found favor with a lot of cheapo desis even here in the U.S. who are fondling their $199 Kindle Fires. We can safely assume that the number of iPad owners in India is insignificant.
Read our lips, we'd be extremely surprised if this Tweek junk does not fold in less than six months due to poor readership.
By the way, we downloaded the latest issue (Feb 10, 2012) of Tweek for our iPad 2 and skimmed through the contents.
Not a single article figures in the must-read category. Only Farrukh Dhondy's Dickens and Empire we were a wee bit tempted to pore over although we were aware of some of the juicy bits in the story.
Tweek's design is average, nothing to get the reader excited.
We weren't too pleased that sometimes when we swipe to the right for new articles or left for previous articles, we ended up with the three menu options in the middle (Share, Contents and Newstand) instead of moving to the next piece.
All in all, the smart minds at SI think Times Internet can do a lot better than junk like Tweek.