Need I even say the obvious?
Well, if you schmucks insist I won't disappoint you. You know how much I love you poppets.
* Indians are the most uncivilized, savage beasts around.*
I don't mean just Indians in Mera Bharat Mahaan but in Amazing Amreeka too.
Look, these Shaitans in Amreeka have now given a ho-hum response to one of the classiest Bollywood films in recent times.
Yash Chopra's last film Jab Tak Hai Jaan has raked in a mere $1.94 million at the U.S. box office.
Am I Mad!
Starring Shahrukh Khan, Anushka Sharma and Katrina Kaif, Jab Tak Hai Jaan is an endearing romance richly deserving of all the accolades heaped on it by discerning moviegoers.
Jab Tak Hai Jaan has an engaging story, decent acting, nice photography and pleasing songs.
Above all, the movie oozes class, something that's anathema to most Indians.
Disappointed
To tell you the truth, I'm incensed that this fine film didn't do better.
But then I'm not completely surprised either because savages a.k.a Indians generally have a deep-rooted aversion to anything classy.
As the wise SI has often intoned, the only difference between Indians and chimps is clothing.
Here's how Jab Tak Hai Jaan fared at the U.S. box office in the opening weekend compared to a few prominent Bollywood films: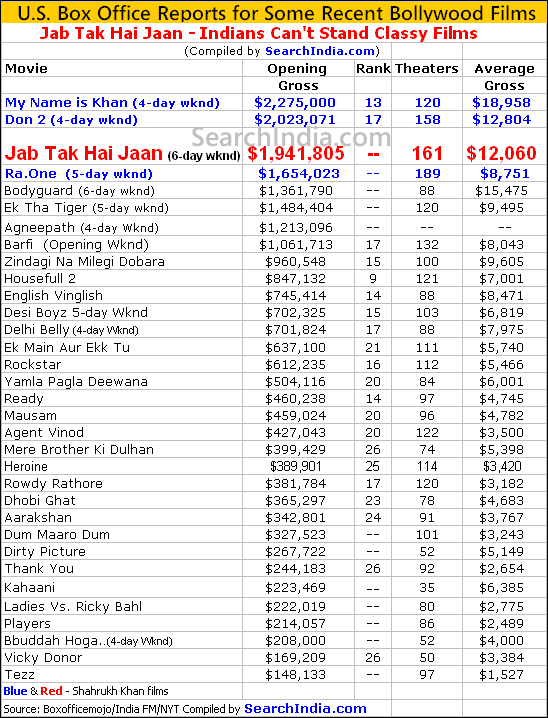 If you have yet to see Jab Tak Hai Jaan, I strongly encourage you to do so.
This is one of those rare watchable Bollywood films.
Related posts:
Jab Tak Hai Jaan Review – Don't Miss It