Hooray. Hooray.
Uncork the champagne.
Light the fireworks.
Blow the conch.
Beat the drums.
Let the party begin. Hippy hippy ya ya.
Akshay Kumar's Housefull has fared badly at the box office, the U.S. box office that is.
Moviegoers have yet again buggered Akshay Kumar.
Pleased as Punch
God, we are pleased as punch. 🙂
Why?
You see, Akshay Kumar has been a shameless beneficiary of theft (remember HeyyBabyy), and the scumbag deserves to fail.
The chutiya richly deserves it because he thinks morals and laws are only for lesser mortals.
Shahid Kapoor is Bigger than Akshay Kumar
Folks, Housefull has fared worse than Akshay Kumar's previous films like Kambhakkht Ishq, Singh is Kinng and only slightly above Chandni Chowk.
For the April 30-May 2, 2010 opening weekend at the U.S. box office, Housefull had a total gross of $642,146 and an average gross of $7,831.
Heck, even that kid Shahid Kapoor's Kaminey did better at the box office than Akshay Kumar's Housefull (please see chart below).
What a f*cking shame!
At this rate, even Abhishek Bachchan will be overtaking Akshay Kumar. 😉
Well, we guess Akshay Kumar is no longer a big star let alone a superstar these days.
Here's how Housefull fared at the U.S. box office compared to a few prominent Bollywood films: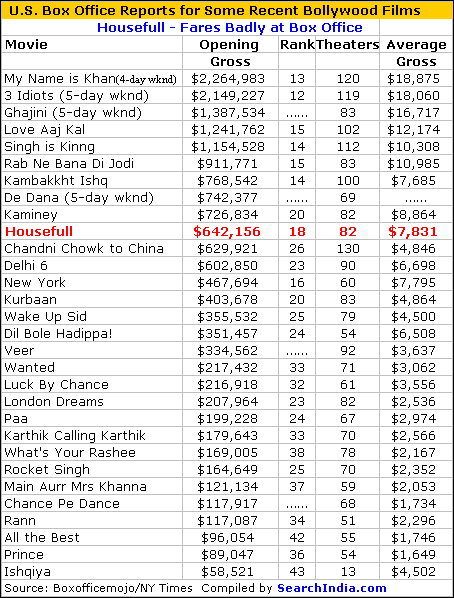 Related Stories:
Critics Bugger Akshay Kumar's Housefull
Housefull Review: Decent Movie; Don't Believe the Critics