SI: What about our Masala Chai?

Desi Waitress: Very Sorry Sir, I told the cook Masala Chai but he made Masala French Fry!

SI: What! (Sotto Voce: Goddamn Jesus 'Mother F*cking' Christ. Is your kitchen staffed with baboons who can't even understand another desi?)

White Waitress (in a pleading voice): Sir, would you like to have the Masala French Fry?

SI: No, thanks. (Sotto Voce: Have you completely taken leave of your senses, you moron. What do you think this is, McDonald's)

Desi Waitress: I will get Masala Chai in 1 minute sir.

(So-So tasting Masala Chai arrives 7 minutes later.)
Spoiled food (onion-potato filling in the Masala Dosa was way past the "Eat Before" date), clueless kitchen, un-Vegetarian friendly practices (more on that later), and mediocre service make Dakshin off RT-1 in Iselin, New Jersey one of the trashiest Indian restaurants we've been to in New Jersey.
Folks, Dakshin is not a restaurant. It's a f*cking zoo run by a bunch of baboons, both in the kitchen and in the dining room.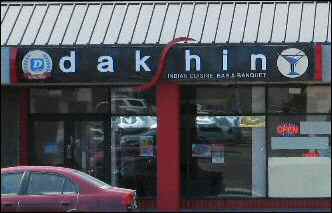 Restaurant or Zoo
Serving spoiled food to diners like Dakshin did to us is an unpardonable, heinous sin for which there are no excuses.
Bad/tasteless food is common at Indian restaurants but spoiled food is still the exception. Except, of course, at dumpsters like Dakshin.
Once a restaurant places spoiled food before diners, it demonstrates its total contempt for paying customers and nothing can salvage its reputation for us. Not even if they were to offer us ambrosia later.
Overall Poor Fare
Hard and tasteless, Idli was unworthy of its name.
The outer layer of the Medhu Vada was crisp but alas, it was only partially cooked inside and had the taste of raw flour.
With Red Chili Powder floating on top, the medium-thick brinjal-carrot Sambar was low on spices, low on Tamarind and extremely low on a competent chef's hand.
Peanut Chutney and Tomato Chutneys were both cold and flavorless, a problem encountered at most Indian restaurants in the NJ/NY area.
Masala Dosa was soft with spoiled potato-onion filling inside. Absolutely Disgusting.
The medium-thick Gumudi Kaya Pulusu was lukewarm but good.
Chicken Biryani was a flavorless monstrosity while the hard-as-hell Lamb Kadai was a travesty leaving us in shocked wonder as to what kind of spices went into this aberration.
To the certain consternation of vegetarians, food from the Chicken Biryani vessel had dropped in to the adjacent Basmati Rice vessel.
Spinach Pakora was too salty, Chili Pakora was rubbery and the Onion Pakoras alright. But Punugulu (an Andhra specialty) was crisp and good as was the Vegetable Masala and Tomato Dal.
Carrot Halwa was burnt beyond recognition and a disgrace to any self-respecting Indian restaurant.
Our takeout order of Vegetable Biryani did not come with paper-plates, forks or napkins until we asked for it separately. Fortunately, the Vegetable Biryani was in the flavorful category.
Clueless Service
Of the two girls who served us, it's hard to figure who was the worst – The Caucasian girl or the desi girl.
The Caucasian girl got us the check with Masala Chai included in it even though it was never served to us. When we asked her about the Masala Chai, she looked perplexed and ran inside. She returned a few minutes later and told us that the cook had just started making it and it would take at least another six minutes and she'd remove it off our bill. She was tacitly suggesting we cancel our Masala Chai order even though we were previously charged for it. Since we were in a hurry, we reluctantly yielded to her suggestion. Just as she ran to get us a new check, the desi waitress materialized out of nowhere and told us our Masala Chai would come in one minute and then went on to explain the Masala French Fries mishap in the kitchen.
The Caucasian girl was too busy drinking Coffee/Tea/something hot behind the cash register (that the desi girl had brought her) to notice that some of the buffet items needed to be replenished until some of the other diners complained.
By this time, we'd concluded Dakshin was not an Indian restaurant but a zoo!
Of the many Indian restaurant in Edison/Iselin area in New Jersey we've dined at, Dakshin easily counts among the worst.