If JFK's inaugural address were to happen today, the lecherous bastard would probably say, Ask not what you can eat at Bengali Sweet House, ask why you won't.
Bengali Sweet House is the hidden gem in that Indian cesspool known as Newark Ave in Jersey City, NJ.
Given that Indians are weird specimens, be they in Mera Bharat Mahaan or Amreeka, it's not in the least surprising that Bengali Sweet House in Jersey City should serve not a Bengali meal but Gujarati food.
Only an Indian restaurant sporting the name Bengali Sweet House would venture to offer a Gujarati meal!
But what's in a name as the bard would say.
So delicious was our Gujarati meal that we swooned.
We swear on Abhishek Bachchan, Priyanka Chopra, Trisha Krishnan, Ajith and Sameera Reddy. 😉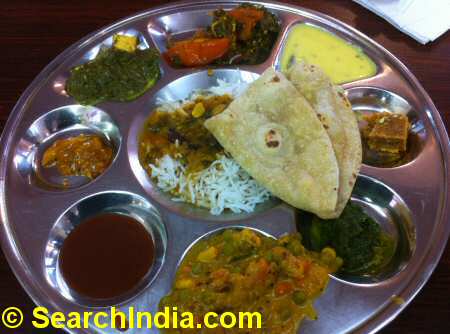 Bengali Sweet House Gujarati Lunch Buffet
Vegetarian Lunch Buffet Items
During our visit Bengali Sweet House's weekend Gujarati lunch buffet ($7.99) included a sumptuous array of vegetarian dishes – Gota for appetizer, Bhindi Masala, Palak Paneer, Mixed Vegetable Curry, Kadi, Dal, Plain Rice and Roti for main course, Green Chutney, Tamarind Sauce, Raita, Pappadum for sides and Mohan Thal for dessert.
In one word, the Bengali Sweet House lunch buffet was "Delicious."
Appetizers or entrees, dessert or Rotis, the meal was a blessing to our demanding taste buds.
Every single item had a rich flavor, nice aroma, fine taste.
And they were all piping hot and seemed fresh.
Here are the details of our Bengali Gujarati dining adventure:
Gota
Spinach Pakora was piping hot and tasted yummy.
The gourmands at SI have had Spinach Pakoras at countless places but never did such a yummy version collide with our taste buds.
Bhindi Masala
A melange of Okra, Tomatoes and Onion, Bhindi Masala was spicy and the masala seeped well into the cut Okra pieces.
Bhindi was tender and tasted divine with both Rice and Roti.
Palak Paneer
At most Indian restaurants, Palak Paneer is a bland, raw, green colored monstrosity.
But not at Bengali Sweet House.
Palak here was spicy and had no raw flavor. The texture was smooth and Paneer cubes were tender and absorbed the ground spinach leaves and masala flavor.
Mixed Vegetable Curry set in a creamy gravy was neither pasty nor watery and had the required thickness. More importantly, it was spicy and flavorful and included Beans, Carrot, Green Peas and Corn.
Kadi
Medium thick with a rich flavor of Dhania or Coriander seeds, Kadi was a treat to our Indian taste-buds.
Unlike South Indian Kadi, the Gujarati Kadi at Bengali Sweet House did not have any vegetables.
Bengali Sweet House Dal
Dal was watery, sweetish and included Spinach leaves.
Very tasty, we poured it on top of white rice and spooned it up as well.
Awesome.
Green Chutney
The coarsely ground Green Chutney was spicy but not too spicy as to bring tears to our eyes.
It was thick and tasted superb when mixed with hot white rice.
White Rice
Plain rice was fresh and piping hot.
Pappadum was crisp as it ought to be.
Tamarind Sauce was alright.
Hey, even the humble Raita was delicious at Bengali Sweet House.
It was medium thick with grated Cucumber and Carrot and had a freshly prepared taste.
Mohan Thal
We can never resist sweet temptation, whatever form they come in. 😉
Mohan Thal was simply divine with right amount of sugar, ghee and had a fresh taste and flavor.
Good Rotis
While we enjoyed all the items on the Bengali Sweet House's Gujarati Lunch Buffet, what gave us immense joy was the Roti.
The fresh-off-the-pan Rotis were soft and tasted delicious with a daub of ghee in the middle.
The middle aged Gujarati waitress kept making the rounds of the tables, gently nudging diners to have more Rotis.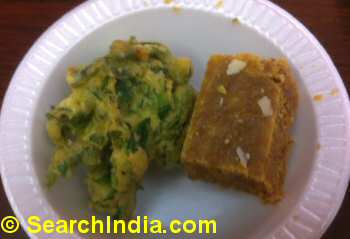 Piping Hot Gota (left) and Mohan Thal (right)
Bengali Sweet House – Crazy Bastards
In all our years of eating at scores of restaurants in the U.S., we've not seen a warning sign (see below) like the one posted at Bengali Sweet House near the buffet station.
Those chutiyas have put up a big poster threatening to impose a $5 fine on diners if they waste food.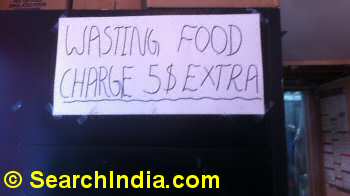 Only sick Indian swines would stoop to such nonsense.
During our visit, we found the food delicious but, God forbid, what if it weren't?
Are we still supposed to stuff the crappy Indian food into our mouth and not waste it for fear of invoking the fine.
Dirty Swines
Of course, Indians will be Indians dirty swines.
We saw Indians taking their used plates to the buffet table for replenishing.
Since Indians are for the most part uncouth louts with no table manners and shove the food deep into the mouth with all five fingers, we refrained from a second visit to the buffet tablet except to pick up the fresh Gotta and Mohan Thal.
To make matters worse, the restaurant folks made no effort to stop the unhygienic, dirty practice of some diners.
Bengali Sweet House Service
When we walked in around 1:00 p.m., there were about eight desis digging into the food.
There was nobody to show us to a table or greet us.
We asked the guy at the Cash Counter if we have to pay first for the food. He replied in negative and told us to sit wherever we want.
Bengali Sweet House is mostly a self-serve restaurant. You have to pick up the napkins, plastic spoons, forks, water glasses and water from the buffet table along with your food.
Also, the Cash Counter fella was so careless that he never charged us for the buffet and simply billed us for the assorted sweets we picked up. We had to remind the lethargic idiot to charge us for the food!
Bengali Sweet House Rating
Bengali Sweet House is not for everybody.
Sure the food is divine.
Do not visit Bengali Sweet House, if you cannot stomach the sight of desis mixing and eating their food with hands and then carrying used plates with soiled hands to the buffet station.
If we decide to go again, we'll make sure to be there within five minutes of the opening.
Its unhygienic practices aside, we still consider Bengal Sweet House a gem of an Indian vegetarian restaurant on Newark Avenue in Jersey City for such is the quality of its food.