If Akshay 'Trash King' Kumar had any shame at all, he'd wear a burkha and hide in some Zenana for the rest of his life.
But Trash King, who's made a career of consistently delivering trash and acting in stolen shit in his unseemly love of lucre, refuses to do and subjects himself to more shame and more ridicule than all of Bollywood combined with every new release of his.
Take for instance, the second weekend U.S. box office performance of Akshay's latest release, the horribly bad Tees Maar Khan.
The pitiful apology of a movie continues to fare miserably at the U.S. box office.
Here's how badly Tees Maar Khan fared at the U.S. box office in its second weekend compared to a few prominent Bollywood films: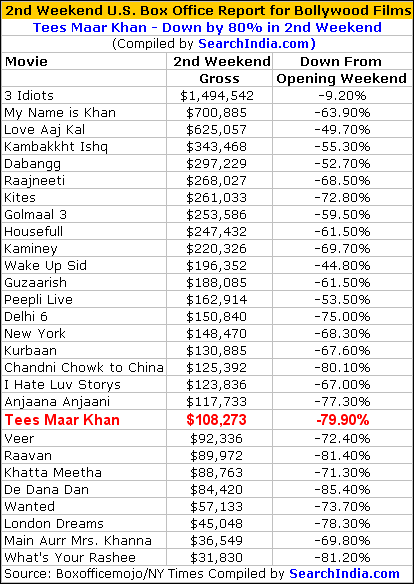 By the way, the total U.S. gross for Tees Maar Khan from December 22, 2010 through January 2, 2011 is $1.03 million.
Related Stories:
Tees Maar Khan Box Office – Royally Screwed
Tees Maar Khan Review – Insufferable Trash
After the Fox Review – So Bad it's Good for the Bollywood Thieves
Tees Maar Khan Hammered by Movie Critics