The Chutiya deserves it.
By God, Akshay Kumar deserves Thank You's humiliating failure at the U.S. box office for the garbage he's shoveling at Bollywood fans for the last few years.
Folks, Akshay Kumar's latest trashy movie Thank You is not a failure of ordinary proportions.
Au contraire, Thank You is helluva disaster.
A tsunami of a disaster.
For the opening April 8-10, 2011 weekend in the U.S., Thank You grossed a pitiful $247,760 in what looks like Akshay Kumar's worst showing here in recent years.
The movie came in 26th and had an average gross of $2,693.
Here's how Thank You fared at the U.S. box office compared to a few prominent Bollywood films (please see below table):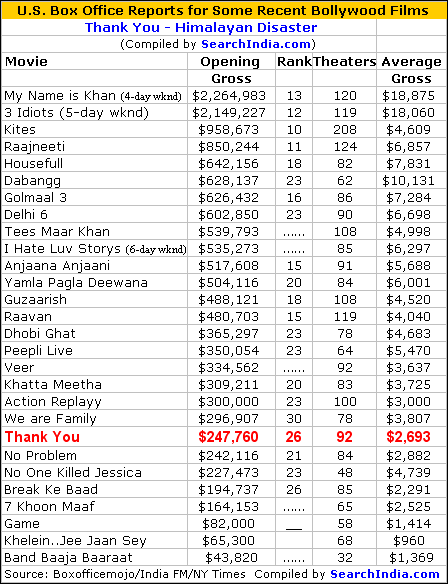 Guys, if you haven't seen this garbage a.k.a. Thank You consider yourself divinely blessed!
Related Content:
Thank You Review – Sickeningly Bad
Scathing Reviews Greet Akshay Kumar's Thank You